Jack survives a roast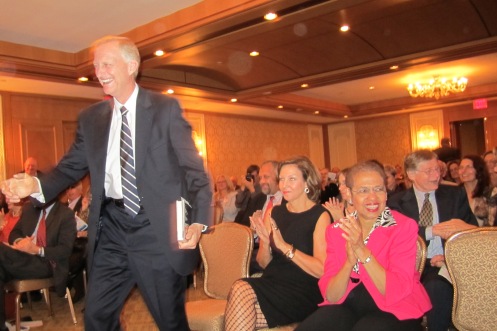 D.C. Councilmember Jack Evans, who is not shy about reminding his colleagues on the Council, or anybody else, that he's the longest serving member of that body, reached a new level of public recognition on Wednesday night with a Roast & Toast by some of his erstwhile closest and dearest friends. No, it wasn't a step in public rehab, à la Charlie Sheen, just an acknowledgment that even though he's been around so very long, he still does have some people from whom he take a joke – and dish it out and all for a good cause or two.
The smiles, chuckles and laughter filled the ballroom of the 4 Season Hotel in Georgetown, all for the benefit the Friends of Hexagon and the Wounded Warrior Project.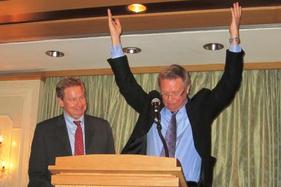 Some of the better zingers:
--from former VirginiaCongressman Tom Davis: "Jack is often compared to vice presidents of the United States because nobody knows what either one does."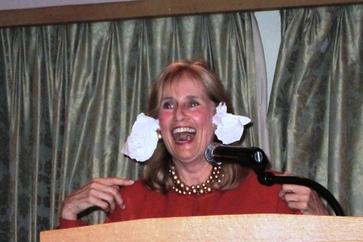 --from Linda Greenan, VP at Georgetown University: She was in a group beach house with Jack at Dewey Beach many years ago and they would go to the Bottle & Cork and Jack would sing his version of Mack the Knife (known as 'Jack the Knife') which was the cue for "everybody to rush to their tables to get cocktail napkins" to stuff in their ears.
--from NBC4 reporter Tom Sherwood, the dean of local journalists: When Jack says he's "'longest serving' it sounds like a prison sentence; that word [sentence] makes [D.C. Councilmember] Tommy Thomas nervous."
--from WTOP political commentator Mark Plotkin: He called Jack's law firm, Patton Boggs, and spoke to the managing partner and asked: "What does Jack do? At first there was deafening silence, then gales of laughter." Then Plotkin quoted President Eisenhower, who when asked the same question about then-Vice President Richard Nixon, said: "If you give me a week, I'll get back to you."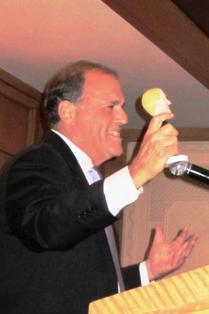 The response by Jack himself, included: "I can stand here and be funny but I don't want to change the format." Regarding Linda Greenan: "She has a hard job," particularly when GU President John DeGioia tells her she's going to have to call local leaders to tell them GU is renaming Burleith the "North Dormitory." Regarding Tom Sherwood: "'Dean' means you're old and going nowhere." Regarding Mark Plotkin: "I still get hate mail' from women I fixed you up with. And Tom Davis is so ubiquitous on the speaking circuit that 'RSVP' is his middle initial.
The roast was presented by the Friends of Hexagon and the Georgetown Business Association. Roasters, roastee and guests enjoyed wine and cheese and delicious Mediterranean hors d'oeuvres afterwards.