Jack Evans Looks Back but Keeps Moving Forward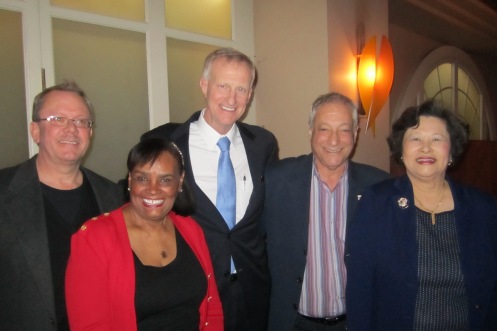 Ward 2 Councilmember Jack Evans recently became the longest serving member of the City Council. On Wednesday, on his 4,962nd day in office, he held one of his regular events – a fundraiser for his constituent services fund at Georgia Brown's restaurant on McPherson Square.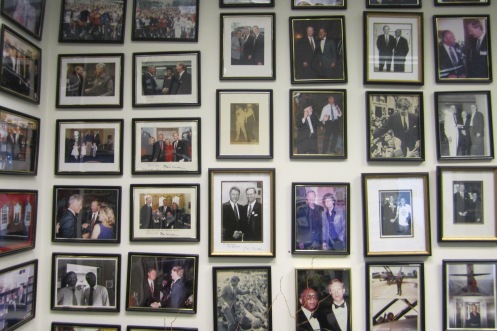 Among the guests was on old friend, John S. LoPatto, III, from, Pennsylvania. This lead the conversation to how Evans came to Washington. So, back in 1975, Evens, as any young person might, went to see his local Member of Congress, Rep. Daniel Flood, in the congressman's district office in Wilkes Barre, Pennsylvania. And when Evans, asked, Flood said, "See Helen," and he got a job for that summer as a budget analyst for the Department of the Army here in Washington.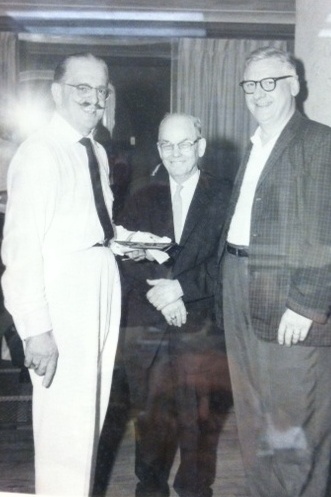 Now, over the years, Evans has met lots of the powerful and famous. Pictures of these visitors with Evans hang all over his Council office – Evans with President Bill Clinton, John Wilson (his predecessor as Ward 2 councilmember) and Mick Jagger; Evans with Washington Mayors Sharon Pratt Dixon, Marion Barry, Tony Williams, and Adrian Fenty; and Evans with many, many more celebrated faces as well as with less well-known, everyday citizens.
One of the earliest of these wall-images is of Rep. Flood, smiling with his trademark handlebar moustache posing with Evans' father, John K.Evans, Sr. and a friend, George Demsey. The father owned a flower shop in Evans hometown, Nanticoke, Pennsylvania, and, Evans says, if it weren't for Rep. Flood and that first summer job, he might very well be a florist himself today. "But luckily I'm not," he says with his trademark laugh.
Evans is certainly proud of his past and could just stay as Ward 2 councilmember forever – after all, he was just reelected without opposition. But this is not his plan. Indeed, when asked, he doesn't hesitate to say: "Yes, I'm going to run for mayor."