Jack Evans and ANC Jeff Jones lead tour of O & P Streets Rehabilitation Project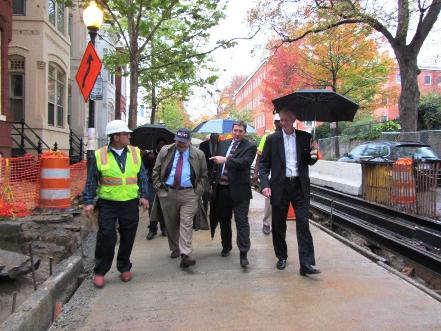 A light rain accompanied D.C. Councilmember Jack Evans and ANC Commissioners Jeff Jones, Ed Solomon and Bill Starrels on a tour of the O & P Streets Rehabilitation Project in Georgetown Thursday morning, along with members of the DDOT project management team and D.C. parking representatives.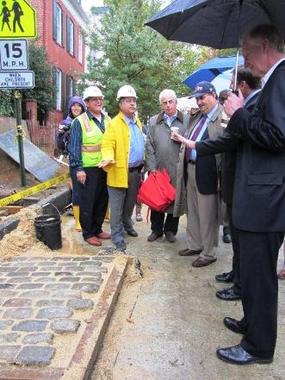 "We are on schedule, and on budget", Jeff Jones reported to the small group of project members, Georgetown residents and members of the press. "The main issue is resident parking", he said. "As many residents know, we have designated Zone 2 parking only in some areas to make it easier on residents," ANC Councilmember Jones continued. "We're monitoring it very carefully to make sure it is enforced."
The tour began at the project office on 36th and N Street, and headed north to view an area of recently completed streets, gutters and brick sidewalks. "These walks along here," Jones said while walking near the University, "used to be concrete sidewalks, and now they're brick." He said. "The granite curbs are being saved where possible."
Continuing down P Street, an area of refurbished track was shining through the misty morning. "These tracks had been covered by asphalt on 36th Street and have replaced the more worn tracks on P street," a project member explained.
When asked why the utility crews are not working in unison with one another, Jeff Jones explained that "Washington gas is not part of the project, and is working on a separate schedule." D.C. Water is working in conjunction with DDOT and replacing water mains, some of which are over 100 years old. As for Verizon not burying some of the cable and phone lines snaking across back yards and through alleys? Verizon was reportedly given the opportunity to lay underground cables while the work was taking place, but declined the offer. Councilmember Evans welcomed more information on the Verizon situation.