It's love: Feb. 14 for Concerts in the Parks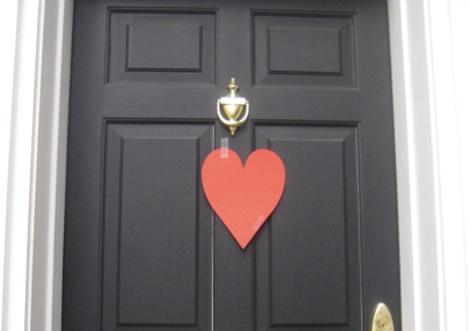 Do you have a secret admirer? If you've noticed a rash of Valentine hearts posted on the doors of your neighbors in the last few days, it's not Cupid: it's the Citizens Association of Georgetown's clever way of "Spreading the Love" by spreading the word about the upcoming Valentine's Day soiree at Halcyon House to benefit the Concerts in the Park 2011 season. If you look closely at the hearts, they direct you to the CAG website (www.cagtown.org/spreadthelove) and a link to the invitation to this very special evening at a very special Georgetown venue.
For the past seven years, CAG's Concerts in the Parks have brought together all ages of the Georgetown community to socialize and enjoy live music - from jazz to reggae to rock n' roll - performed in our lovely parks. An amazing array Georgetowners gather at the concerts to picnic, catch up, and enjoy the live bands. On Valentine's Day (Monday, Feb. 14), swanky folks (and the rest of us) will be dressed in red and gathering to hear local chanteuse Rebecca McCabe and enjoy cocktails and hors d'oeuvres before heading out to a romantic dinner a deux (or heading home to snuggle). The link also offers a download of one of Rebecca's songs, so get online and have a listen, get your tickets, (space is very limited) and don't forget to send those wedding/honeymoon photos and other images of love to cagmail@cagtown.org for the "Spread the Love" multimedia show that will be presented during the party. This party is not just for couples, so if you'd normally sit home on a Monday night, put on your ruby slippers and head over for a fantastic party and you can still be home in time for your favorite TV show. CAG Concerts in the Park Series Valentine's Party Monday, Feb. 14, 6:30-8:30 pm Halcyon House, 34th & N Sts.