It'll Be Another Chance to Pitch DC Statehood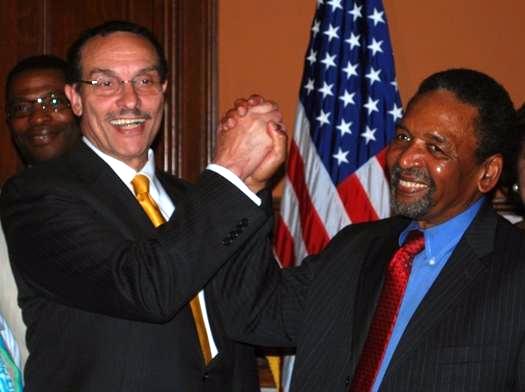 Stressing in a frustrated tone that the District of Columbia "still does not have full representation," Mayor Vincent C. Gray on Wednesday swore in members of the Washington Commemorative Committee that will help pay tribute to the 50th anniversary of the historic 1963 March on Washington,
Heading the DC committee is civil rights leader Dr. Frank Smith, an African American activist who has a long and stellar career of political and community leadership.
Upwards of 250,000 gathered in the pivotal demonstration in the District of Columbia on August 28, 1963, when Martin Luther King made his famous "I Have a Dream" speech.
"The events of that day – the prayers, the electrifying speeches, the stirring music – helped mark the 100th anniversary of the Emancipation Proclamation and reminded Americans of the nation's long pursuit to fulfill its founding principles of liberty and equality for all," stated a brochure produced by the Smithsonian National Museum of African American History and Culture, and distributed at the swearing in ceremony.
In honor of that day, thousands are expected in DC in Saturday, August 24, 2013 for a commemoration of the original National March on Washington.
In the ceremonies at the Wilson Building, Gray swore in Fred Allen, Wylie Chen, Courtland Cox, Franklin Garcia, Charles Hicks, William Lucy, Dr. Frank Smith, Judith Terra, Dr. E. Faye Williams, the Rev. Reginald Green, Dr. John Franklin, Jerry Clark, Dr. Bernard Demzcuk, Elliott Ferguson, Dr. James Early and Joseph Madison.
Linda Cropp, former DC City Council chair, was named vice chairperson of the committee.
Gray said the committee's mission is mainly two-fold:
"Identify and highlight local landmarks, works of art, civil rights leaders and artifacts identified as part of the District's unique involvement and contribution to the historic 1963 March on Washington.
"Promote full civil rights for the District of Columbia and its residents…."
The committee chair, Dr. Smith, attended Morehouse College in Atlanta where he was a founding member of the Student Non-Violent Coordinating Committee (SNCC). He left Morehouse in his senior year to play a role in the Civil Rights Movement. He was involved and helped lead the planning and executing of protests and marches in Greenwood, Mississippi, during the Freedom Summer of 1964. He was a member of the DC City Council in the 1980s.
In 1998, Smith became chairman of the board and CEO for the organization that worked to establish the African American Civil War Memorial and an accompanying museum.