It Takes More Than Good Jeans To Be Urban Chic
I have to confess, when an unknown boutique specializing in denim and party dresses moved into the space formerly known as Cynthia Reed's fabulous interior design showroom, I was a bit skeptical. After all, it was 1,700 square feet, three times larger than the average Georgetown shop, and how much room did folded jeans really need, anyway?
But 26-year-old Lindsay Buscher was about to prove me wrong, and attract Georgetown fashionistas north from M Street in droves. With no advanced advertising save for mannequins guarding the front door, six years ago this month, there was a line up Wisconsin Avenue on Urban Chic's opening day.
Lindsay's childhood passion for fashion was about to become the family business. Four stores and two children later, it's not easy to tell the employees from the relatives. Graphic designer husband Chris's specialties are computers, interior furnishings and signage. Chris's brother Dave designed the spirally logo, sister Courtney is a buyer, other sister Tiffany runs the office, and kids Emerson Rose and Chase help mom inspect the children's lines (carried in all stores but Georgetown). And the staff? Well, they're all Lindsay's best friends.
Image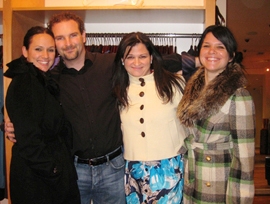 It almost didn't happen. Lindsay had been "crying every day" at the Northrop Grumman job she hated, and about to enroll in a 'Women in Politics' Program at American University after earning a Master's degree in Public Administration when her then fiancé, Chris, gave her that fateful 'push.' It helped that her broker found the perfect not-yet-listed spot. She signed the lease (no, she never considered any place but Georgetown), got married, and quit her job all in the same month!
At the time, her only company was Sugar and shoe boutique Sassanova across the street.
Georgetown remains the flagship store, and denim is still a mainstay. Her core lines are James, Joie, 7 For All Mankind and Citizens of Humanity.
Each store has its own personality. Georgetown is "the most fun," where staff know their customers and their family by first name. (With a loyal following, many have married and had kids since 2004.) The most fashion forward of the fleet, Georgetown has higher price points and more daring selections. Shoshanna's (still Urban Chic's all-time best seller) annual trunk show in April this year features 100 dresses...
Baltimore, the largest store so far (twice the size of Georgetown), opened in 2007 and caters to young professionals of both sexes, has LOTS of denim and a great selection of "good going out tops" as well as children's clothing.
Image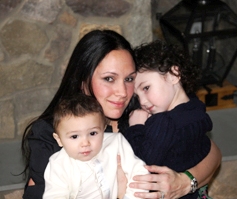 Style-conscious moms, their young children, and high school girls scout for the perfect prom dress in Bethesda (Milly and Tory Burch are popular).
Annapolis opened last year and caters to a nautically preppy (Lacoste and Vineyard Vines) 30-50 crowd (Diane von Furstenberg and Tory Burch) and their kids (Juicy).
What's the secret to Urban Chic's successful expansion in the midst of the country's worst recession in 70 years? "It's not really a secret", says Lindsay. "We were devastated like everyone else when the bottom fell out in September of 2008." But she moved quickly and never considered the worst. Cutting Spring 2009 buying in half, lots of sales, and reluctantly asking staff to take pay cuts (all of them stayed) helped keep them afloat. "Now we're a lot more aware of everything, what's being purchased and buying patterns from the previous year," Lindsay explained. Customers are definitely in a "buy now, wear now" mode, she continued. But didn't it take more than trimming stock? Maybe it's because they still have the best selection of designer dresses in town? Washingtonian magazine thinks so too, consistently naming Urban Chic best boutique in town.
Lindsay kept coming back to the fact that she loves her staff as much as she loves the business. On the floor with her team at least once a week at each location, she has more than 30 eclectic designers, some brand new and others that have been around a lot longer than Lindsay (Diane von Furstenberg comes to mind). She's always carried sizes from 0-12 and attracted clientele age 16-60.
And she touches everything, literally. Her home garage is the office where all of the inventory is shipped before being personally delivered to one of the stores by Chris in the company's white Dodge Sprinter.
Did I mention being down to earth? Lindsay kept reminding me and when it came time to take some "family" photos, I was convinced. Turns out, there wasn't a tube of mascara on the premises. Neither Lindsay or anyone else on the floor was wearing make-up (not that they needed any) and didn't want their pictures taken! So don't blame me that a leopard print tote by Rebecca Minkoff (her best selling handbag designer ) is the main focus in the store photo. Lindsay was carrying her MacBook Air in one when she left to check in at Bethesda.
Image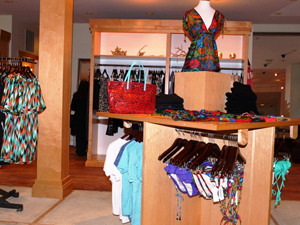 Urban Chic is at 1629 Wisconsin Avenue. T 202.338.5398 www.urbanchiconline.com