It Takes Lotsa Italian Flour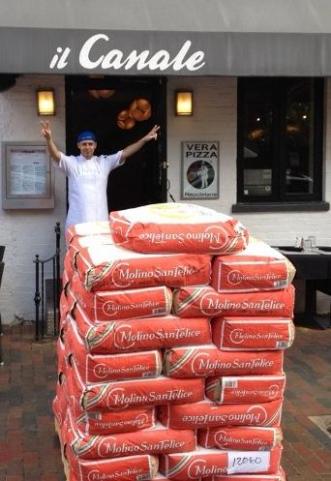 Georgetown could have had a new free-form piece of statuary on 31st Street Friday.
But unintentional artistry was avoided when il Canale got a pallet full of Italian flour off the sidewalk and inside before the rainstorm hit.
Instead of attracting visitors for puzzling art, the flour will be used to make true Neapolitan-style thin-crust pizza.
il Canale Executive Chef Antonio Biglietto greeted the bags of flour which came by boat from the Port of Naples and truck to the ristorante and pizzeria at 1063 31st Street NW. A pallet lasts about three weeks.
il Canale uses flour certified by the Associazione Verace Pizza Napoletana, the Italian organization which approves all ingredients and baking methods for true Neapolitan pizza made any place in the world.
il Canale adheres to those standards, as witnessed by the association's logo right beside the front door. (www.ilcanale.com)