Is It Cool To Be An Independent?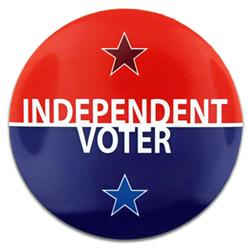 Some voters believe that registering as an "independent" is a cutting-edge, even cool thing to do. That made me think about party labels, what they mean, and about those who reject party labels yet may want to vote in the primary of a party they made a conscious decision not to join.
I grew up in New York City and like D.C. most voters were Democrats. Many had experiences with discrimination and the Democratic Party was a comfortable political home. New York was a melting pot and home to many minority groups. There were Jews who escaped the Holocaust; Irish Americans whose ancestors escaped the famine; and Cubans who fled Castro. My parents weren't political but mom was an activist fighting for everything from planting more trees, integrating schools and stopping Columbia University from taking over more of the Morningside Heights neighborhood.
At 12, I joined a local Democratic club. Being a Democrat meant joining the party of JFK, Lyndon Johnson and Robert Kennedy. I was proud to be a member of the party that supported civil rights, women's rights and, as I got older and came out, the party whose platform evolved to support the rights of the LGBT community. Disliking a candidate of my party didn't lead me to become a Republican or an independent but rather inspired me to join with others in the party to push for change. We fought to elect progressive Bill Ryan (D-N.Y.) to Congress. We supported Hubert Humphrey in 1968 and George McGovern in 1972. Though we lost the presidency, we continued to fight for the principles we believed in within the party. We had an intra-party fight that resulted in Bella S. Abzug (D-N.Y.) being the Democratic candidate for Congress after Bill Ryan died.
Through the years, the party I choose has been more in tune with my beliefs than any other. So it's perplexing that mayoral candidate David Catania, who is smart and an independent, found that the Republican Party matched his principles for all the years it did. He moved to D.C. in 1986 for college and for the next 16 years until 2002, when he was already an elected official, proudly called himself a Republican even supporting and contributing to George W. Bush's presidential campaign. He left his party and registered as an 'independent' only when it became clear the GOP didn't support gay rights and actually worked to make things worse for the LGBT community. I figured that was for personal expediency to keep his seat on the Council not realizing until recently that it was more than that when he was quoted in the Washington Post saying, "The Republican Party that I grew up with disappeared a long time ago. As far as being an Independent, it's a suit that really fits. I joke that I've been in one bad marriage and I'm not about to jump into another." He needs to explain what principles the Democratic Party stands for that were so abhorrent to him as to consider it would be a bad marriage.
The 'I' label on the ballot means the person doesn't identify with a particular party and voters don't necessarily have an indication what they believe. What set of political principles do they espouse? What is it about my Democratic Party they find objectionable? Is it support for unions? LGBT civil and human rights? Public education, women's rights, choice, equal pay for women, raising the minimum wage, removing impediments to voting or working to deal with climate change? If they agree with all those positions are they simply afraid to run in a primary or are they 'independent' simply for political expediency?
Recently it's been suggested that D.C. voters may be coerced or bullied into voting Democratic. That is absurd and offensive. People vote for candidates whose positions they like and who they feel comfortable with. When they do consider party in their decision, it's often because it gives them a window into the candidates' beliefs on issues that may not be part of the discussion in a particular election but are still very important to them.
Some ascribe the ethics problems in D.C. to a particular party. But ethics problems relate to individual candidates. Some might consider that George W. Bush being elected in 2000 caused more harm to District residents, especially those with family members in the military or National Guard, than lying on a mortgage application for which one D.C. Council member was appropriately indicted and convicted.
Positions, history and vision are important when considering who to vote for but don't be coerced or bullied into not considering party affiliation when voting. It is one factor of so many in choosing a candidate. We have a Democratic president and likely will still have a Democratic Senate in 2015. During the term of the next mayor we will very possibly elect the first woman president, Democrat Hillary Rodham Clinton. So one additional factor voters might want to consider in choosing a mayor is who will have more access to power to benefit the people of the District. Would it be a former Republican who walked away from his party to become an independent, or a woman who is a proud fifth generation, D.C. Democrat? Just more food for thought.
This column first appeared in the Washington Blade.