ISO: A Desert Island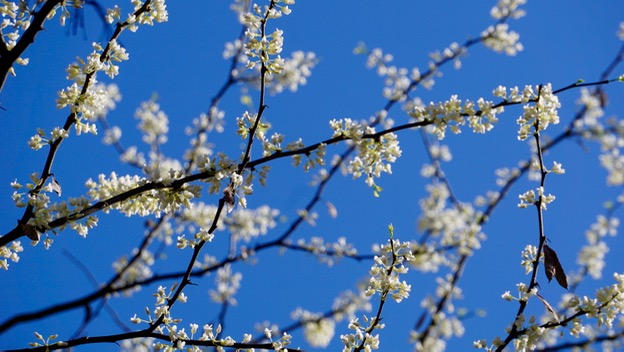 Earthquakes, disputed convention rules, refugees, and ongoing turmoil in the Middle East: It's enough to make you stick your head in the sand, or, on second thought, since that "head-in-sand posture" is unquestionably uncomfortable and indisputably undignified, to escape to a desert island.
So, what to take? The British radio program, "Desert Discs" suggests music: Which 8 music discs would you take if you were to be marooned on a desert island? Music schmusic: Which 8 plants would you take – that's the question. I've already made my list.
Some assumptions must be made about the island. Its climate would be temperate. Who escapes to a desert island where temperatures sizzle or plummet below freezing? The bungalow would be perched above the beach on the lee side of the island, facing south with a seating area embraced by a garden planted with my 8 plants. There I would sit, glass in hand, delighted to be listening to the music of ocean waves and not to news about delegate counts and impending Fed rate hikes.
Finally, growing conditions would be perfect for each plant – a little leeway (pun intended) as this is, alas, a hypothetical exercise.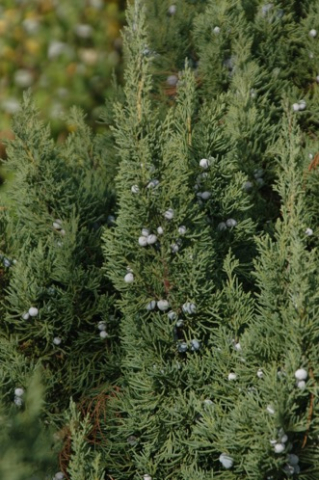 Structure first: I'd want a tree to provide shade on those long, lazy, sunny days. I'd choose the white form of redbud (Cercis canadensis "Alba"), a tough shade-tolerant tree. That the common name is redbud makes sense because the species, a native, has early spring fuschia or pinkish purple pea-like flowers that cling along its dark stems and trunk well before its leaves appear.
Very pretty, but 'Alba' is beyond gorgeous with its pure white flowers that make blue spring skies bluer and brighten gray days, too. Redbuds are rounded and spreading in shape, growing up to 30 feet tall with a 15-20 foot spread. In the fall, when its pendulous, heart-shaped leaves turn a gentle yellow, pea pod-shaped seed cases hang long and dark, persisting through early winter.
Redbuds are deciduous, so next on the list is reliable evergreen material: I'd take the Eastern red cedar (Juniperus virginiana). This is not my favorite evergreen tree, but its columnar shape would be the right contrast to the redbud's spreading form. A "columnar" shape can be formal, but the soft, loose sage-green texture of the red cedar offsets its formality and so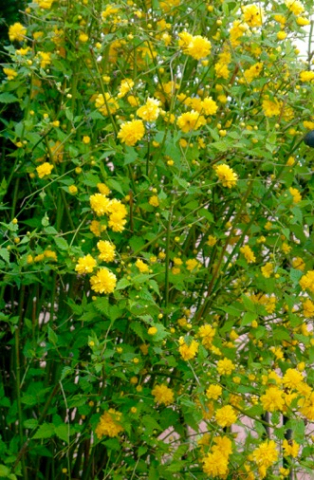 would suit this beachy setting. It is easy to grow, and its berries attract birds at the end of winter when there is little else for them to eat. These junipers also self-sow, so I'm apt to have several of them in varying sizes if I stay on my island long enough…and given the current state of American politics and the world, it might well be a while.
Still thinking "evergreen" but now looking for a different texture, Japanese kerria (Kerria japonica) would be next. Its slender arching stems are a good grass-green all year, even after its small, serrated leaves yellow and drop in autumn. It spreads into a well-formed 4-6' clump that can easily be divided, and it's branches form more of a screen than a solid mass. In early spring it flowers prolifically, producing bright ruffly yellow flowers you can see from miles away – just the sort of cheery sight one wants at the end of winter.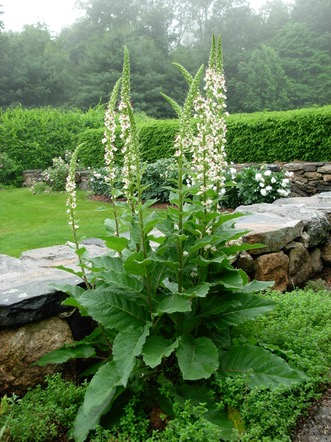 So, these comprise the bones of my garden: The decidous redbud, an upright juniper, and the arching evergreen stems of my kerria.
Now for the flowery bits. I like white in summer, so my next pick would be mullien (Verbascum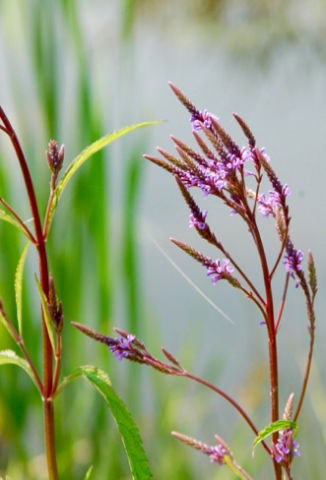 chaixii 'Album') for the sunny parts of the garden. They'd bloom May-August, bearing tiny white flowers with pink centers all along its vertical 2 foot stems, above broad rosettes of fuzzy gray green leaves. Being biennials, they'd die after a year or two, but they'd also self-sow prolifically, soon naturalizing in places that would suit them best. I could always yank the ones that settle in places I'd prefer them not to.
In a damper spot, I'd have to have blue vervein (Verbena hastata). I have always wanted to grow this elegant native because I love its loose clusters of short purplish spikes that appear in mid-summer, borne on tall, slender stems. They sway gently with breezes and attract birds, butterflies, and other pollinators which will likely prove to be very good company on a deserted desert island. Blue vervein does well in full sun and partial shade, likes moist organic soil, and grows quickly. It also self sows, so would blend with the other plants along my secluded shore. Its form would contrast nicely with the upright mullein.
Speaking of contrast, I'd include the stupendously eye-catching Red Hot poker (Kniphofia rooperii), a South African native. I find the color orange hard to work with in spring and summer, but love it in the fall when the overall landscape yields the intense greens and bright colors of summer to the reds, oranges, yellows, and earthy browns of fall.
This kniphofia fits right in to the autumn scene, its 6-8 inch upright clusters of reddish orange flowers looking every bit like a flaming poker at the top of sturdy 3-5 ' stems. It is hardy, and forms 2-3 foot evergreen clumps of long, slender, dark green leaves that look terrific in a winter landscape and provided excellent texture in summer. It would look fabulous beside the furry long, broad leaves of the mullein and the wavy vervein. Not a self-sower, I'd have to divide the clumps from time to time as I waited for the world to calm down.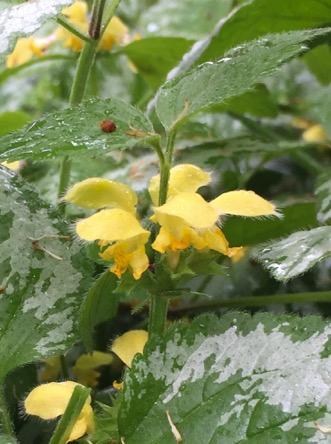 Having filled the sunnier spots, I'd want something shade tolerant, a soft groundcover, for the spaces beneath the trees and in the shadow of the bungalow. I love false lamium (Lamiastrum galeobdolon), a fairly tough little plant that spreads very quickly by sending out runners that take root and form new plantlets. Its pointed green and white variegated leaves grow on 8-12 inch stems that bear little clusters of lemon yellow flowers in late spring. It's doesn't die back in winter, and in fact looks as good in the winter landscape as it does the rest of the year, and because it is variegated, false lamium brights up shady places, looking as though it is reflecting sunlight, even on dreary days.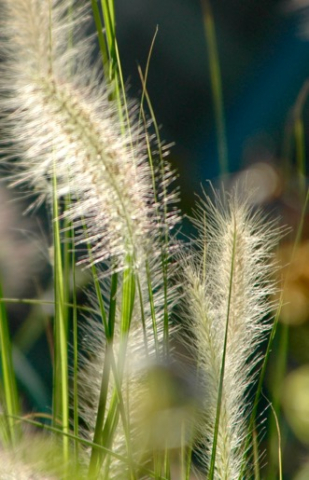 Finally, I'd pick something grassy, no more than 2 feet tall, at the edges of my garden to blend my imported plants gently into the surrounding landscape. One of the shorter fountain grasses (Pennisetum) would just do the trick. While they do best in full sun like many grasses, fountain grasses also tolerate a bit of shade and somewhat damp soil. The medium to dark green grassy leaves will yellow in fall, helping to amplify the red hot poker before fading to a beigey brown, the perfect foil for my evergreen material.
So that's the plant list. All I need now is the island.