Isn't that Joe Biden at a Hoyas basketball game ... IN CHINA?
In front of a spirited crowd that included Vice President Joe Biden, the Georgetown University men's basketball team won its first game during an 11-day tour of China, beating the Shanxi Brave Dragons of the Chinese Basketball Association, 98-81, at the National Olympic Sports Center.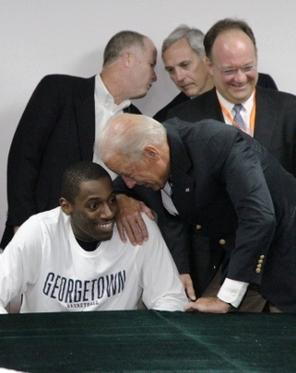 Biden arrived in Beijing on Wednesday evening and came in for the start of the game, visiting with Head Coach John Thompson III and the Hoyas in their locker-room prior to tip-off. He sat with Georgetown University President John J. DeGioia during the game and left at halftime.
Freshman forward Otto Porter (Sikeston, Mo). scored 16 points to lead six players in double figures as the Hoyas connected on 47.0 percent of their field goals (34-of-71) and opened up a 13-point lead at the half, 55-42.
"This group has to manage itself, and so whether we win big or lose big while we're over here, the purpose of this trip is to establish habits and how we need to do things," Thompson said. "We have a long ways to go.
"I'm glad some of those things happened (the VP attending) because life in the BIG EAST is one big distraction. Being fortunate enough to play at Georgetown, we have many events like this.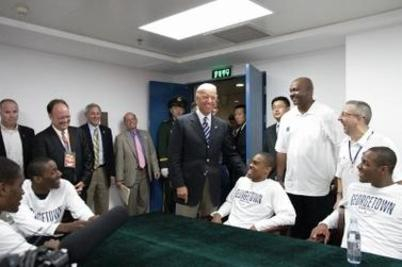 "We were excited and honored to have the Vice President, as he said, traveled 24 hours to see us play, along with the many, countless Chinese politicians and delegates that came to watch their team play, as well as ours."
The Brave Dragons won the opening tip, but the Hoyas were the first on the board after a three-pointer from junior forward Hollis Thompson (Los Angeles).
The Hoyas play one more game in Beijing, on Thursday against the Bayi Rockets. They'll play later on the trip in Shanghai.
Biden's boss – who is known to shoot a few hoops himself and has seen the Hoyas play previously --still has time to make one of those tip-offs.