Invest in...a coat!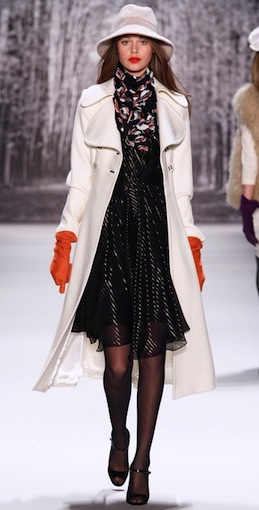 If there's one thing I hands down recommend splurging on when Fall/Winter season rolls around - it would be a fabulous coat! Some of the prices admittedly are steep - but so long as you go with a classic, well-made, high-quality brand you'll be wearing it for years to come, hence why it's worth the investment.
Just like a the black coat is a staple piece, this stands true for a winter white coat. To me there's nothing like it and it goes with everything - timeless, elegant and quite honestly a beautiful on anyone and reminds me of something Ginger Rogers would wear in White Christmas. The Milly coat below (available at Bergdorf Goodman) would look magical against the snow-covered sidewalks and you can easily add a pop of color with a colorful pair of gloves like the model has in the photo.
Another classic color to invest in - a candy apple red. The Diane von Furstenberg (available at ShopBop) herringbone trench below in red spice is absolutely delicious! The color is romantic, feminine and bold and will have you standing out in a crowd.
The ice blue Diane von Furstenberg coat below (available at Net-a-Porter) would bring in a change from the traditional neutral colored jackets.
Now this one is a gigantic splurge - Burberry's leather bound wool tweed trench coat with fur shoulders. Perhaps an item for your lust list, but truly a magnificent coat. :o)
So keep your eyes open for a unique and fabulous winter coat that you may end up tapping deep in to your wallet for but you'll make use of it for years to come!
XOXO
~MyDCStyle