The Inventions that Used Imagination to Bring the Game to the Regular Guy on the Street in 1924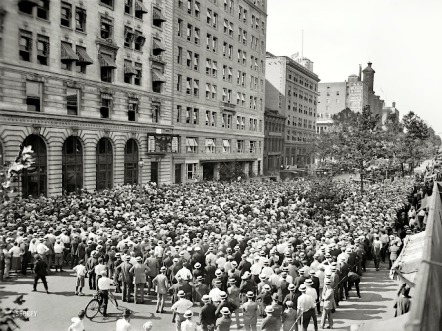 We visit 11th and Pennsylvania Avenue N.W. in the summer of 1924 and a crowd of baseball fans outside the now defunct Washington Star building. They are watching a mechanical score board react to The Nationals baseball team as they play New York in the Penant series. The Nats beat the Yankees that day. The line-up for the Nationals was an all-star parade of Hall of Famers like Walter Johnson, Goose Goslin, Sam Rice and player-manager Bucky Harris. Name recognition of the Yankees that day was only Babe Ruth.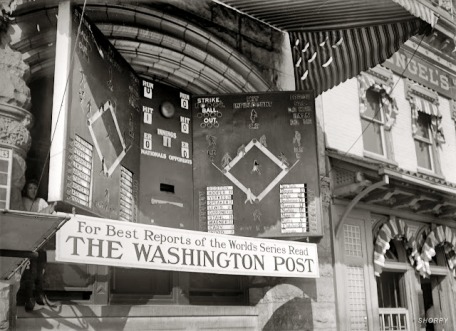 Behind the scenes of Coleman's Invention
This from Washington Post Apr 20, 1910
Fans Impressed With New Baseball Game Reproducer
Thousands of excited fans stood for nearly two hours yesterday afternoon watching the Post's new electric baseball game reproducer, as it realistically reeled off play after play of the Nationals' last game of the double-header with Boston.
It was the unanimous opinion of the crowd that it was the finest exhibition of electrical scoreboard work that has ever been witnessed in this city, the only regret being the defeat of McAleer's men in the ninth inning. Up to the fatal ninth, it looked as if the Nationals, with Johnson in the box, had the contest safely tucked away, and it was interesting to note the change of expressions on the faces as Stahl, the first man up, went out. Four green lights sent the next batsmen to first on balls, and then the big bell told of two singles and a double, and before the contest was over Boston had sent three runners over the plate, and the game was won.
The board, which will reproduce every game the Nationals play away from hone, is a great improvement over the one which The Post used last season. It is arranged to accommodate an unusually large crowd, and instead of one board as heretofore two will be in operation at the same time, the boards being set at an angle that it will be almost impossible for any on in the crowd to miss a play.
The lights indicating the various plays are so brilliant that they can be seen from the District building, and this alone is a big advantage to the crowd, especially those who are in the rear. It is pitched just far enough from the street so that every play is visible, and the play is recorded on the board a fraction of a second after it is completed on the ground where the game is played.
As radio developed the boards became obsolete and redundant and the shows featuring Coleman's Scoreboard Invention seemed immediately ridiculous.
Image