Interview with Ross Stansfield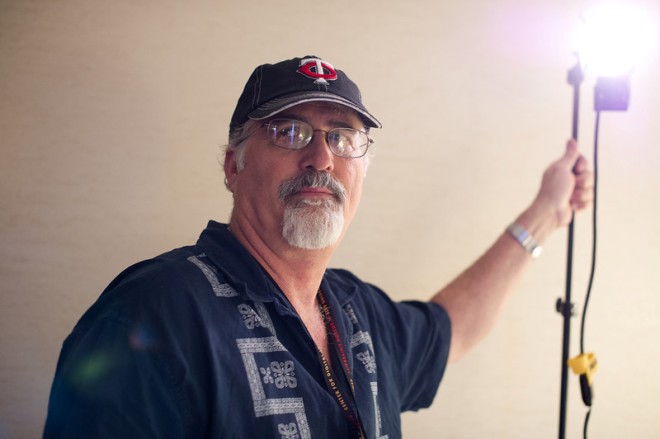 Some people will tell you they have a truck, but Ross Stansfield, a local photographer and filmmaker - he HAS a truck! In the biz it's called a "cube truck," the vehicle that carries around all of the equipment a film crew will need for that day's shoot. I've known and worked beside Ross for a few years now. You know when he pulls up in his black Yukon that whatever you need, be it a crane or dolly track for those big dramatic scenes, or a small light to hang from an impossible spot to catch the intimacy of a story - Ross will have it. The man is always prepared, and with 30 plus years of experience and knowledge, he has a lot to share.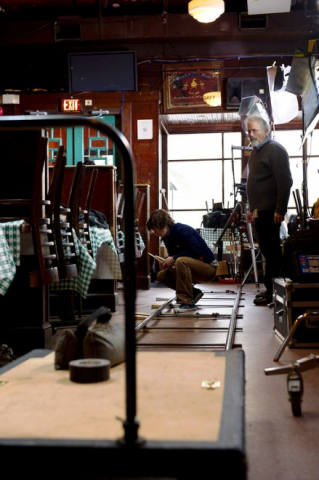 I recently sat down to chat with Ross, who is currently a professor at Boston University's Center for Digital Imaging Arts (CDIA) in Georgetown.
Q: Which one came first, photography or film?
Ross: I made a narrative silent surreal film at William and Mary for a film class. We matched up a record of Leo Kottke playing guitar with a record player very analog…we had to shoot it twice as the camera operator had problems with the film (super 8) when it was finished we had a "Premiere" at our house…we made sure to drive in in our old black Checker "Limo" with the undamaged side facing the crowd .
After that I got a Pentax 35 mm Spotmatic and started learning stills as it did not require the cost and effort of engaging a crew … I did not return to motion picture until directing and producing "Night Songs" for the Christian Scarborough Band in 1990…shot at the Bayou in Georgetown and edited at the Post Group in LA.
Q: What movie first inspired you to get into the business?
Ross: I was at Woodstock in 1969 and saw them filming…one of the cinematographers was shooting with an Éclair ACL decided to slide down the hill in the mud, possibly influenced by the rolling cloud of smoke created when Santana was playing after the rain…I don't think that shot made it to the final cut!
Q: What movies inspire you today?
Ross: I like Noir films including French Noir like Herman Melville, Kurosawa is great, John Huston, Sam Fuller, Preston Sturges for some creative comedy, the TV show, "The Wire," was great long form film making.
Q: What's the biggest difference between working in the business today and working it when you started?
Ross: We used to shoot film … which was expensive and risky … that first film we made had to be reshot … when I was producer for the Census working with Allied Media's Karim Lounes. I decided we would use the Red camera … which in 2009 was emerging … my feeling was it was the way to film here in D.C. as film labs were disappearing, so we would have to be media managing and backing up, but know we had the shots and not wait for film processing dailies … it worked and Engine Pictures did a great job.
Q: Besides me, who are some of the celebrities you've worked with during your career?
Ross: I filmed Robert Rodriguez for APVote.
For the Dewey Square PR firm, working with Andy Harper on his Sony Camera and Sebastion Vizcarra, both CDIA graduates. I used my Nikon D300s hand held Just to have extra coverage however Pat Ewing the Producer loved that look and created title slates to eliminate "jump" cuts..I also used Robert's music from "Planet Terror" and found a font he used for his posters for the titles.
On another shoot I co-produced with Forrest Whitaker and Wandering Hat filmed at the National Portrait Gallery during the "Black List" reception for AT& T.
I recently lit green screen on location for Studio M for the Brian Orakpo Leukemia Foundation spot promoting his golf tournament where we shot stills.
Image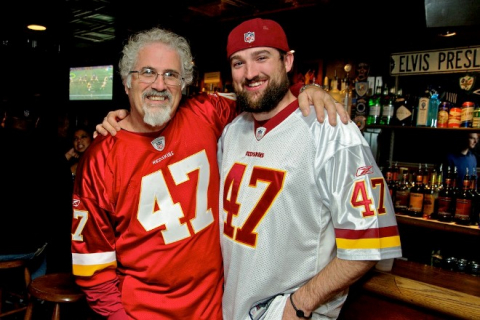 Q: What projects do you prefer to shoot and why?
Ross: I like creative projects such as narrative film, documentaries and commercial type films…I worked 9 months on a TV pilot and we got some very creative shots in that film. I also worked on a short on Raymond Loewy with his daughter Laurence which is showing at the O.Winston Link Museum in Roanoke, Va. With such a small budget I shot, lit, recorded voice over of Laurence, created the sound track and played the harmonica …
I have also worked with my son Brian Stansfield and Wandering Hat on several creative projects:
Q: What's the latest local project you've worked on?
Ross: I am waiting on a Horror film and a Historical documentary for their funding. A documentary for educational purposes is also in the hopper, waiting for approval, and our stills team will be heading for St Louis for a nine day shoot.
Q: You've written an interesting feature film - tell us about that?
Ross: I worked on a feature length film "Streamlined" with Jean Laurence. It's about three misfit teenagers who build the car of the future with the help of the car design greats of the past, including Raymond Loewy. Loewy, you may know, designed the Studebaker that might have saved that company, but was never built. Loewy's creative spirit is part of this story.
Q: From your experience, what are the positives and negatives of working as a filmmaker in Washington D.C.?
Ross: DC in many ways is a "talk " town … they love meetings … but it is also the Government town where many jobs emanate from … sometimes jobs will come as a reference from those who have the patience to slog through all the paper work … my skills are more in the vision and production side … I can see many of the shots days before shooting and then pack the necessary gear for that day…on shooting day it is too late to go look for it … if you see a full blown Hollywood production company come to town they usually have a small fleet of trucks … so they don't forget any needed gear… on the set of Deep Impact near the White House 1997 I was the guest of Richard Zanuck and Linda Harrison … they had trucks around the block and grips waiting for orders … the film was directed by Mimi Leder and she had two Arri 35mm BL cameras mounted side by side on shooting wide and on close up the scene was performed by Tea Leoni and the dramatic content was her knowledge of the imminent destruction of earth by a comet … her father and new young bride misinterpret Tea's character's behavior as disapproval of them … she can't admit her secret as she was told by the president … after several takes magic happened and Tea nailed it. So all that was worth it.