An Interview With Karin Tanabe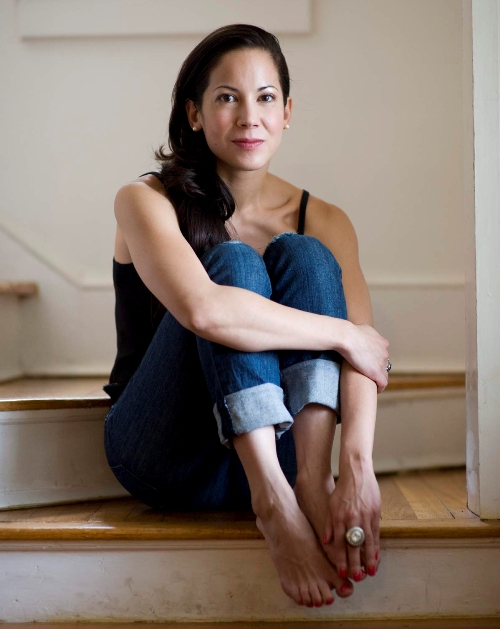 You know it is a fun book club when you invite authors to attend, and they then want to join as a participant. This is how I met Karin Tanabe (thank you Kate Michael for introducing me to her!). As an author, Karin is smart, witty, funny, and amazing at weaving characters into tales of love, political scandal, and art collector shenanigans. As a woman, Karin is kind, even funnier than her writing, gorgeous, and impeccably dressed. (Other things I love about her: she is half Belgian and wears Guerlain perfume.) In a previous career, she wrote about beauty for glossy magazines, including in Dubai. She is a self-professed beauty junkie, so much so that we have a date to go to Sephora together and compare notes (apparently our beauty shopping habits differ dramatically … stay tuned for the story of that trip). She may indeed have tried every product on the planet. And she has opinions. Strong ones. (Oh, and yes, she kissed Mick Jagger – must ask her about this next time I see her …)
AP: What city were you born in? KT: Washington D.C.
AP: What city to do you live in? KT: Washington D.C. (This makes me sound rather boring, but there were a lot of places in between!)
AP: What is your middle name? KT: Elizabeth.
AP: What is your astrological sign? KT: Leo
AP: What is something about you most people don't know? KT: I kissed Mick Jagger.
AP: What is your most prized possession? KT: My first book contract.
AP: If you could have dinner with the person of your choice, who would it be? KT: I'd love to break bread with Donna Tartt and ask her what she does in the ten years between her books. I'd also like to know if she gets bored of wearing menswear-inspired suits on the regular.
AP: Describe your fashion style in three words maximum. KT: Classic, globally-inspired.
AP: Do you wear a watch? If yes, what model? KT: Nope.
AP: Diamonds or pearls? KT: Diamonds! The more the merrier.
AP: What is your #1 beauty secret? KT: Sunblock. So much sunblock. I like the cheap stuff and mostly buy Hawaiian Tropic because it smells like the beach.
AP: What fragrance do you wear? KT: L'Instant de Guerlain.
AP: Botox or not? KT: Not yet, but I'm not opposed in the future.
AP: Hair color: natural or not? KT: I don't even know what my natural hair color is at this point.
AP:What are your special diet tips, if any? KT: Drink soy milk to stay full, pretend bread is poisonous.
AP:What do you do for exercise? KT: I go to a morning boot camp class four days a week and run one day a week.
AP:What are three things that you always have in your fridge? KT: Lemonade, tangerines and cheddar cheese.
AP: What is your cocktail of choice? KT: I go very high low. I like either champagne or cheap watery beer.
AP: What is your secret to work/life balance? KT: It's okay to be a hot mess sometimes. I think when we say work/life balance it sounds very organized and Zen, but often I have to sacrifice work for life or life for work and that's okay. I think that's the trick. Letting one win every now and again and not feeling guilty about it.
AP:How many miles do you fly per year on average? KT: Lately, book deadlines win more than travel so about 15,000.
AP: What are your three top tips for travel? KT: Really warm socks, earplugs and patience.
AP: Three songs on your iPod right now. KT: The only music I can listen to when I write is classical, so that tends to dominate my playlists. Right now I love Lakmé by Leo Delibes, Air to Air by the Silk Road Ensemble and Chris Thile preforming Bach's Sonata No. 1 in G Minor on mandolin.
AP: What book are you reading right now? KT: I just went to a Kazuo Ishiguro book signing and bought The Buried Giant, but I'm finishing his When We Were Orphans before I crack it.
AP: Quote to live by. KT: "Do crazy things with your hair while you still have hair to do it with."
AP:What is your worst pet peeve? KT: Visible clutter. I don't mind if drawers and closets are a disaster, but I like to live in denial and don't want to see any of it.
AP:What time do you usually wake up in the morning, and how many hours of sleep do you usually get?KT: Weekdays I get up at 6:15 and sleep seven to eight hours. Weekends I just roll with it.
AP: What is your favorite thing about the beauty industry? KT: I'm a beauty junkie so it's hard to boil it down to one, but I'd have to go with innovation. There are always new products to try.
AP: Least favorite thing. KT: Narrow-mindedness.
AP: Who is your mentor? KT: I never had a mentor when I worked in journalism as I was always working at these dog eat dog publications, but now that I write books I would say that my editor Sarah is my mentor. I think that the editor/writer relationship just lends itself to that.
AP: Words of advice for young women starting their careers today. KT: It can take a very long time to get the career you want. Work hard, make smart choices and be patient. Also, it's more important to be smart than "pretty." That sounds extremely obvious, but the world is constantly telling us that the opposite is true, so I think it's important to say it again and again.