Interview With The Designer: Kara Ross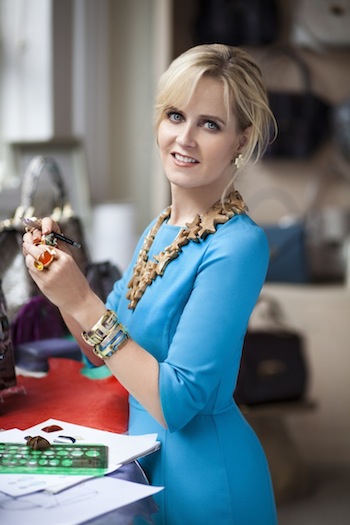 Meet Kara Ross. A 20-year vet in the jewelry business and one of my go-to designers for unique, sophisticated and well-made jewelry and clutches. Her jewelry has graced the likes of the The First Lady, Michelle Obama, on several occasions and Kara is an alum of Georgetown University (go Hoyas!), so she's no stranger to DC. Hope you enjoy my one-on-one with the designer! XOXO
The First Lady wearing earrings from Kara's Gemstone Collection
1) Given that DC is comprised of a blend of cultures, we love your unique and worldly-inspired jewelry. When did you start designing jewelry and working with gemstones? and what is the inspiration behind your designs?
I would say my love of jewelry started when I was 15 years old. My parents took my sister Keeneh and I on a safari in Kenya and went to look at gemstones when we were there. My parents let us each pick two stones. I chose two emerald cut green tourmaline gemstones. When we got back to Philadelphia, my parents took us down to "Jewelers Row" to a jeweler my mother had worked with before on her pieces. We were able to design our own rings. We were involved in the wax process, picking accent stones etc. It was such an amazing experience and I still have the ring and love it!
I'm lucky in that I get to travel with work and with my family I am always inspired by the new places, people, customs, clothing, architecture that I see. For example, I went on a girls trip to India in November. That inspired a whole collection for our less expensive Boutique Collection, Kara by Kara Ross. I was just in Turkey this past summer and loved all the fabrics I saw in the Grand Bazaar. I bought some hand painted ikat plates made in the 1920's and now I want to do an ikat python print for fall, which came from them. I also try and go to the flea market and antique shows as much as possible. I feel if you keep your eyes and heart open-there is always something that you are going to take notice of. It could even be a beautiful flower and the unexpected colors that live in it. Two years ago our color palette for the bags came from the colors of a parrot I saw. There are endless ideas everywhere. Fall Winter 2012 KARA by Kara Ross inspired by my trip to Morocco.
2) How did it feel to see your designs featured in Sex and The City Part 2? I am grateful to people for wearing my designs. This is the best thing that can happen to any designer – when people love your creations, cherish them, give them as gifts to their loved ones. Sex & The City influenced the way women dress so much – I have no complaints on being a small part of it all.
3) I love your handbags - especially the electric blue clutch above, which is great to add that POC (pop of color) to any neutral outfit. Where are they made and what inspired you to start designing handbags? All handbags are made in New York. We work with tanneries in Italy and Spain. Each season they create unique looks for exotic skins we use for our bags. I love exotic skins as much as I love gemstones. Having beautiful accessories in every category is something I had always wanted to offer to women. It's going so well – I am really happy with the way the collection progresses.
4) Three words to describe your style of jewelry, what would they be? The three collections of Jewelry I have are different, so I will give you one word for each: Kara Ross Fine Jewelry = Luxurious Gemstone Collection = Timeless Kara by Kara Ross = Fun
5) What is a staples piece of jewelry every woman should have? My signature piece has been a shirt cuff. This has been a staple – it's very popular with women of all ages. There is a reason for it – it's a classic. Whether it's made with exotic skins as in Kara by Kara Ross or in sterling silver as in Gemstone Collection (we just started offering those styles in Gemstone Collection) - those shirt cuffs can be worn with anything – stacked on each other or just by themselves.
For more information visit www.kararossny.com