Intermix Replacing Thos. Moser in Cady's Alley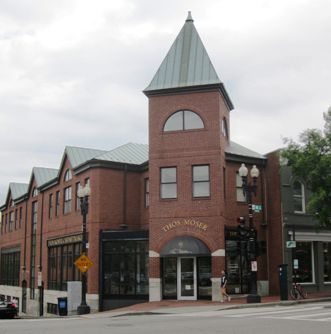 EastBanc, Inc., the D.C.-based commercial and residential real estate investment and development firm, and Jamestown, a leading real estate investment and management firm, announced Friday that Intermix, the high-end women's clothing boutique, has signed a long-term lease to occupy the corner retail space at 3300 M Street, occupied by Thos. Moser furniture until later this summer. Intermix is presently the corner boutique at street level on M Street in The Shops at Georgetown Park across the way from Dean & Deluca.
"Cady's Alley is a vibrant retail community and arguably D.C.'s fashion and design ground zero," said Anthony Lanier, president of EastBanc. "Securing Intermix delivers one of the nation's top fashion-forward women's apparel stores to the quarter and we are pleased to have them within the distinctive urban village.
The 2,679-square-foot retail space is a prime corner commercial property, which borders Cady's Alley and is an entry into the fashionable Georgetown Design District.