Innocent St. Patrick's Day Event Turns Smoke-filled Room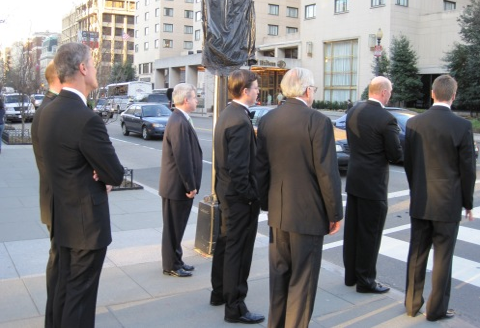 The Irish are a lovely people. Just look at their friends: folks of every stripe, wearing green to show solidarity one day each year. Listen to the lilt in the spoken tongue. Look at their history. One must love the Irish.
But, enter controversy where one was most unlikely. A group called the Friendly Sons of St. Patrick, low-profile until now, is suddenly the subject of controversy over emergency legislation sponsored by Councilmember Jack Evans, passed by the D.C. Council, and signed by Mayor Adrian Fenty -- just for this group of men -- and one other all-male group -- to allow cigar smoking at their St. Pat's Day party at the Capitol Hilton. As the Irish Times noted on these pages, "Since when is lighting up a stogie an integral part of St Patrick's Day celebrations?"
Maybe they can tell us. Hope it was a good party, worth an act of city government to suspend laws (that apply to the rest of us). And being publicly criticized for cronyism, sexism, and smelly rugs.
No names, no faces. Erin Go Bragh.
Image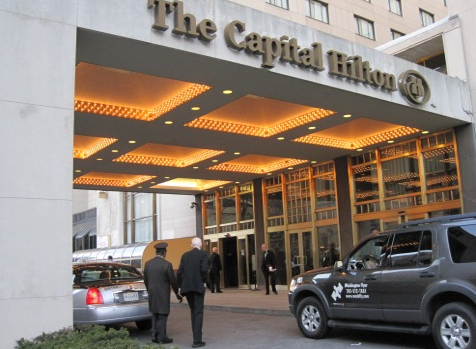 Arriving at 16th St., NW, Avenue of the Presidents, and K St., for the private event.
Image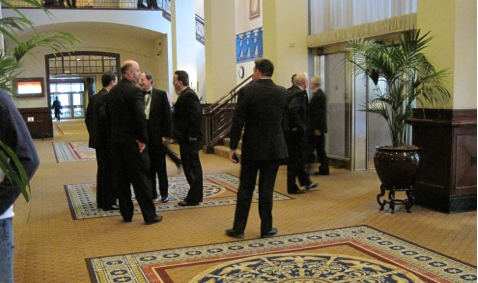 Gathering in the lobby before heading to the 2nd-floor ballroom, where laws were changed for a private party.