I'll have the Pattie Lynn special
I know I'm in the minority. Never liked spa treatments, massages, mani-pedis, or facials. Not that I didn't need the relaxation and pampering. Simply, I preferred to do my own nails and see the best dermatologist on the planet for 'tune-ups' and 'spackling' as often as I could afford. In between, I followed the regimen Dr. Tina Alster recommended, and tried to stay out of the sun.
Until now. When she launched her own line of skin products last month and brought in the best aesthetician around, I could not resist.
As marketing and media relations director, Andrea Rodgers explained, "Dr. Alster redefined the idea of a spa. SKIN IS IN is more results-oriented and medically based. The facial treatments and procedure are an extension of her practice."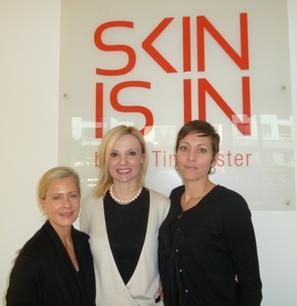 Sunny and bright as the décor, Wendy Burton greeted me at the door, offering a Perrier. The walls are pristine white, with SKIN IS IN-filled canisters in primary colors (coded to skin type) adorning the walls. In a slight southern accent, aesthetician Pattie Lynn Pumphrey, petite and radiant, ushered me into a private room filled with ultrasonic equipment, aromatherapy and soothing music.
As soon as I changed into a gown and reclined on the facial bed, we started with a deep cleansing. Her gentle fingers massaged my face and neck. Steamed towels with a hint of lavender essence were applied to lock in moisture.
Once my face was free of make-up, it was time to analyze. No surprise. "Dry, sun damage, congestion in the T-zone." We talked about a treatment that included some products I was already using (clearly not often enough) and a suggestion for a more hydrating cleanser, eye and neck-firming cream.
Next, a customized Microdermabrasion. Think light sanding with a wand that reinvigorates the face, and minimizes pores, exfoliating the top layer of skin to give an all-over glow.
Another massage, this one included the neck and décolletage. Relaxing and stimulating at the same time.
Cucumber and Vitamin C. No, not a smoothie but a hydrating mask that smelled like a day in St. Barths. Aaah , more steaming lavender-scented towels.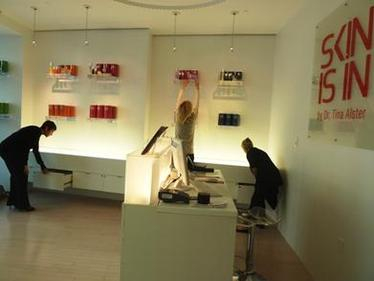 As I relaxed for about eight minutes, Pattie Lynn slathered my hands and arms with moisturizing cream, then warm towels covered my arms.
What followed was a brief LED (light emitting diode) procedure "using variable wavelengths of light to gently reduce the effects of sun exposure, pollutants, and stress." As Pattie Lynn told me, "The flashing lights reduce redness and promote healthy healing."
More warm towels.
"I've always had a passion for skin," Patti Lynn said. She knew Dr. Alster's reputation when she sought out the right place to work her magic. "That was five years ago. "Until SKIN IS IN opened, I was a medical aesthetician for WIDLS (Washington Institute for Dermatologic Laser Surgery), her practice upstairs. It's a fabulous establishment, and I'm so proud to be working for Dr. Alster."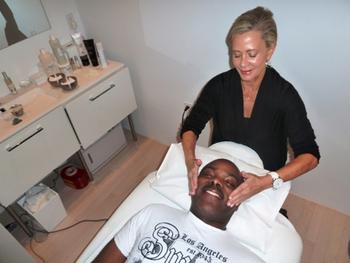 As we were wrapping up, exchanging make-up routines, a Pattie Lynn regular arrived. "Grinning from ear to ear, Leonard Cole, also a long-time client of Dr. Alster's said, "I come every four weeks. Just love the way my skin feels and looks. I'm totally relaxed."
SKIN IS IN is not just for faces. Treatments include body sculpting and contouring, and a new laser procedure for thinning hair.
I'll be back.
SKIN IS IN is located at 1430 K Street NW. Tel: 202.628.8855