Ice skating at Washington Harbour?
A major renovation and redesign has been proposed for Washington Harbour, including plans to add a new rink to the pool and fountain at the center of the Harbour. As presented to Advisory Neighborhood Commission 2E on Monday by Charles McGrath of MRP Realty, the rink would be part of a new outdoor retail/bar/restaurant space, reconfigured to reduce its present "seasonality," make it more pedestrian- and family-friendly, increase the view across the water to the Kennedy Center, update many of the design features and raise the level of "white noise" to benefit the residential occupants.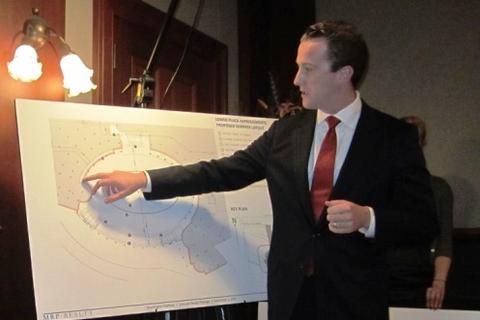 The central element would be the new ice rink and other changes to the fountain and tower. According to McGrath, it would modeled on the rink at Rockefeller Center and Reston Town Center and be the largest sheet of ice in the District. It would be open from November to March, 9 am to 10 pm, with strict controls on patronage from bar clientele to keep it family-friendly and safe for children.
Overall reaction was generally positive, with one resident calling the ice rink "a genius idea," although he and others had misgivings about the proximity of the outdoor bars to the ice-skaters. Others said that the ice-rink would be out-of-scale and out-of-character with what's there now.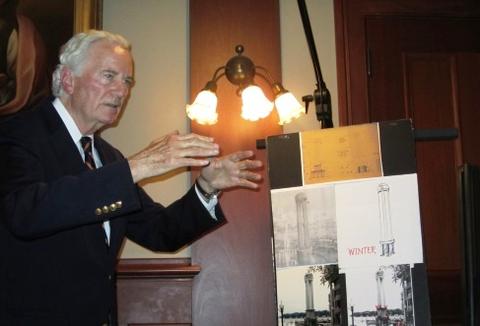 The most direct criticism came from the original architect of Washington Harbour, Arthur Cotton Moore. While he pointed out that he always supported ice-skating, he objected to the "uglification" in the name of "modernization" of the space. He particularly objected to the proposed changes to many the original architectural elements, including removal, that now relate the present Washington Harbour buildings to its historic Georgetown neighbors.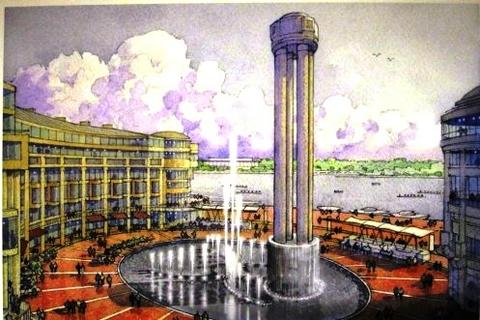 The ANC unanimously passed a resolution addressed to the Old Georgetown Board stating "general approval" of the MRP proposal, including the new fountain and ice rink as a "pleasant addition" to the neighborhood and that the parties work to "restore the [buildings] to their original grandeur."