Ice (Skating) Age Comes to Georgetown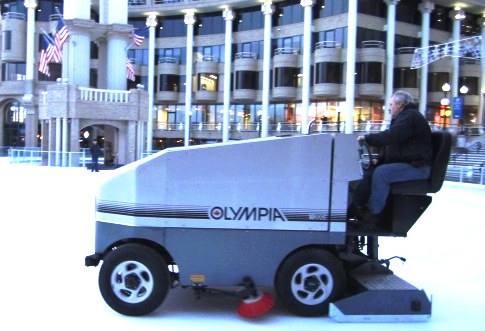 Noon, Monday is the big day for Georgetown and area ice skaters -- at that hour, the brand new Washington Harbour Ice Rink will welcome its first skaters.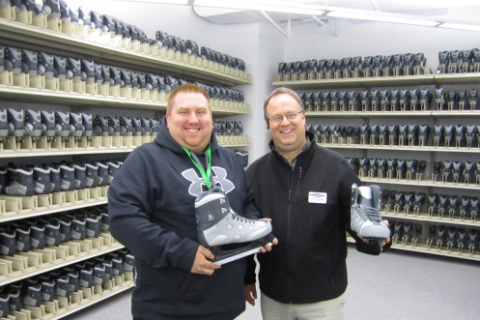 As dusk fell on the Potomac at 30th Street the day before, however, it was all preparation as workers made the final fix-ups and the rounded Olympia ice refresher went around-and-around to make sure the new ice surface was smooth and uniform.
"We're ready to go," said general manager Rory Mushlin, as he and marketing point person Jim Littlejohn made the locker-room/office ship-shape. "We have over 500 rental skates ready to fit any size for any age."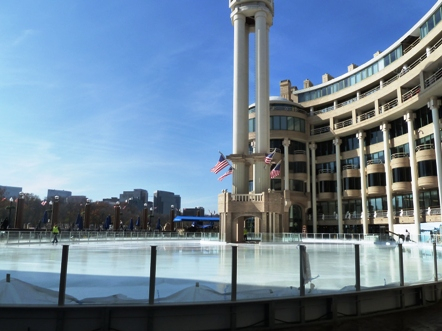 The grand opening will be on Saturday, December 1, 4:00 to 7:00 pm, with entertainers, ice skating performances, singers, a light show and food and beverage from the nearby restaurants, including the new Farmers Fishers Bakers.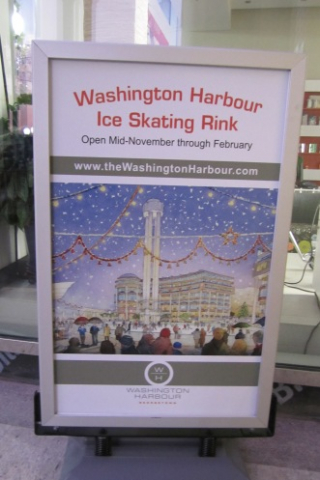 Georgetown is not the only District neighborhood with a new rink. Just a few days before, skaters started using the brand new Canal Park rink on M Street, SE, a few blocks from Nationals Park.
The 12,000 square feet Georgetown rink will be open from November until March and will be D.C.'s largest outdoor ice skating venue, larger even than New York City's iconic Rockefeller Center rink.
More information is available at: Facebook/TheWashHarbour, Twitter, @TheWashHarbour, The Washington Harbour or info@thewashingtonharbour.com and tel: 202.295.5007.