Ice Rink to Open Soon at Washington Harbour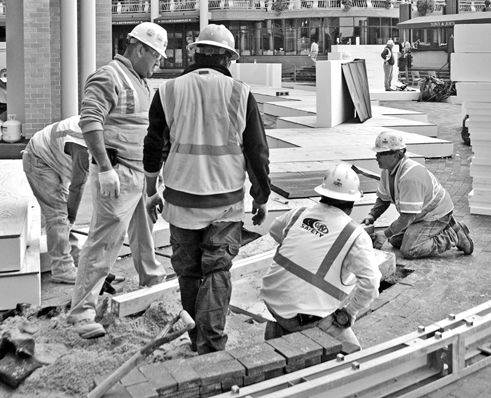 By Deirdre BannonCurrent Staff Writer
If the recent chill in the air has left you daydreaming about winter outings to come, a new venue in town could be just the ticket: Washington Harbour has begun converting its newly renovated fountain into an ice rink — and it could be open for skating by the weekend before Thanksgiving.
The inaugural seasonal switch from fountain to ice rink started last week, and this week workers are measuring, cutting and installing separate layers of foam and plywood subfloor, according to Joshua Lynsen, a spokesperson for the complex. Refrigerated tubing will sit on top of that subfloor and freeze water for the rink's 3-inch-thick ice surface.
"I'm very enthusiastic about the new skating rink," said Bob vom Eigen, president of the Friends of Georgetown Waterfront Park group. "In the winter, Washington Harbour is dead, so I think this is a great idea that will bring people to the waterfront."
"It's no secret that the commercial spaces on the first floor and the restaurants struggle," during the winter months, he added. "But ice skaters will presumably have dinner next door [to the rink]. People like watching other people skate when they dine — just like at Rockefeller Center in New York. It's a great treat to go to those restaurants and watch people skate."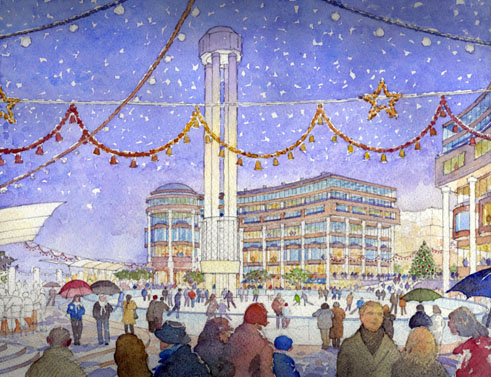 The rink, located on Washington Harbour's lower plaza between 3000 and 3050 K St., will stretch beyond the fountain area. At 11,800 square feet — about two-thirds the size of a professional ice hockey rink — the new spot will be larger than the ice at either Rockefeller Center or the National Gallery of Art Sculpture Garden.
Nancy Miyahira, a director with the Georgetown Business Improvement District, said the new attraction at Washington Harbour, a member entity, will have a positive impact on the neighborhood's businesses.
"I think they're shooting for a special experience right down there on the water," she said. "You've got the backdrop of the Kennedy Center, Roosevelt Island and the Key Bridge, so it's a naturally beautiful environment.
"I know neighborhood businesses such as the hotels are already thinking about building it into their hotel packages as an experiential element of staying in Georgetown," Miyahira added. "I think it … will be a great new addition to the community."
The rink will operate seven days a week: from noon to 9 p.m. Monday through Thursday; noon to 10 p.m. Friday; 10 a.m. to 10 p.m. Saturday; and 10 a.m. to 7 p.m. Sunday. Admission will range from $7 to $9 with discounts for students; skate rental will cost $5.
Holiday events will include a skate with Santa Claus, and the rink can be reserved for private parties. Skating lessons will be offered for those ages 4 and older, at all skill levels.
The rink will be in place through the spring, when it will be converted back to a fountain before D.C.'s cherry trees blossom.
Washington Harbour, including the fountain and ice rink, is owned and operated by a joint venture of Washington-based MRP Realty and the Rockpoint Group.
Washington Harbour suffered a setback in the spring of 2011 when heavy rains caused the Potomac River to rise and flood the commercial complex, after steel floodgates were not completely raised. One restaurant, Farmers & Fishers, remains closed, though it hopes to open this month with a brand-new concept under the name Farmers Fishers Bakers, according to its website.
Thie article appears in the Oct. 17 issue of The Georgetown Current newspaper.