I will vote for Patrick Mara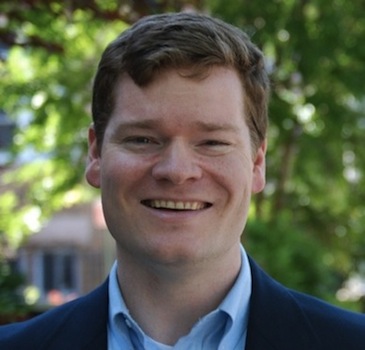 Daily dramas involving cupcake wars and royal wedding dresses notwithstanding, some truths persist. Power corrupts. Absolute power corrupts -- you know the line.
Recently, the District government has been rocked by scandal, ranging from "fully-loaded" SUVs paid for by taxpayers, to test score tampering, to troubling conflict-of-interest issues on boards and commissions that make critical decisions affecting our communities. This follows a previous mayoral administration defined by action laced with arrogance, an almost criminal disregard of community voices, and troubling misconduct reaching to the Attorney General's office and above.
The District government is in desperate need of fresh thinking. While all the major candidates for the D.C. Council at-large election to be decided Tuesday are qualified, gracious, and equipped for leadership positions in local government, only one candidate has the independence to offer a counterweight to the District's crippling one-party state.
Statehood? No taxation without representation? Seriously, folks. How about reaching for respectability.
Former Mayor Anthony Williams articulated it well, quoting his father. It does little good to demand respect, he said. We must command it. That starts with vigorous oversight, serious self-policing of wrongdoing, and a commitment to honest debate and checks and balances.
Therefore, in a departure from the editorial board of The Georgetown Dish, which will not make an official endorsement, I will vote -- and urge readers to get to the polls -- for Republican Patrick Mara.
As noted by The Washington Post, which endorsed him, Mara is not an extreme right-winger. He supports same-sex marriage and D.C. voting rights. Perhaps of equal importance, Mara understands that we need to advocate more effectively on behalf of the District in the offices of Republicans who will continue to play a significant role in national politics, influencing our local affairs.
There is no getting around it. We simply must speak rationally and reasonably to members of Congress in a language they understand. To continue the current stand-off -- no matter how flaky our Congressional overseers might be -- is deeply self-destructive. Patrick Mara can make important progress in this area.
But the District needs a strong counterbalance to the dominant ideology for more fundamental reasons. As noble as Democratic ideals are, too much of a good thing is toxic. In the case of the District, our one-party rule has led to de facto cronyism, fiscal irresponsibility at times, and an atrophied set of ideas that isn't adequate to meet the complex challenges we face.
Councilmember David Catania set the precedent of principled Republicanism that has played a critical role in oversight, accountability, and fairness at City Hall. While he has drifted from his GOP roots, Catania has raised the standard of our government and the quality of our city. We need more of this.
Mara knows the District, he has worked as a tutor in our public schools and served on the State Board of Education. No stranger to Capitol Hill, he started his career as a U.S. Senate staffer. Mara lives in Columbia Heights, far enough east to understand the hardships many District residents face.
But taking on the dominant political party is an uphill climb. All the more reason -- for more accountability in our government, for a better balance of ideas and solutions to our challenges, and to raise the quality of our ongoing relationship with Congress -- vote for Patrick Mara Tuesday.