I want to live in Georgetown: Cox's Row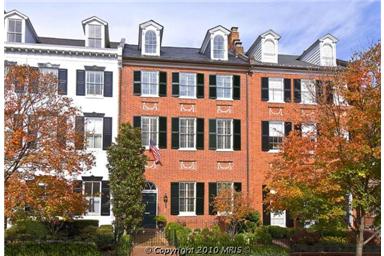 Known as one of Georgetown's finest examples of Federal period architecture, Cox's Row in the 3300 Block of N Street was built around 1805 to 1820 by Colonel John Cox.
Cox, a very successful merchant and real estate owner, was born in 1775 and also served as Mayor of Georgetown from 1823 to 1845. Quite the dandy, he married three times to women of prominence. He earned the rank of Colonel in the War of 1812. His neighbor, Francis Scott Key, who composed our national anthem during that war, lived just two blocks away at what is now M and 34th Street.
Cox's Row is unique in that the houses are set back from the street, creating "door yards", and leaving little space for rear gardens. The severity of the Federal facade is relieved by exquisite dormers and leaden swags in recessed panels.
Some years ago, George White, former Architect of the Capitol, gave me a tour of his house at 3331 N Street. I was awe-struck by the size and condition of the house....it had hardly any alterations in nearly two hundred years! It was huge and magnificent, with very high ceilings, and wider than most Georgetown houses. I reverently followed him from floor to floor. What an honor to see this house with a man who so respected it's architecture. The house was built on a brick foundation - solid as Gibraltar. Mr. White told me that the house was part of the Underground Railway, which helped African Americans flee northward to freedom.
George White purchased the house for under $200,000. It was sold in 2001 for $2.1 Million, extensively and superbly renovated, and sold again for $7 Million in 2006. It is once again on the market asking just under $10 Million.
The house has seven bedrooms, 6 bathrooms and 3 half bathrooms. It is over 6500 square feet and has parking for 3 cars. I assure you it is spectacular.
Shown by appointment.
Sources:
1. Davis, Dorsey and Hall, "Georgetown Houses of the Federal Period, 1780-1830", Bonanza Books, New York. p. 58
2. Mris.com