I Never Met a Greek Salad I Didn't Like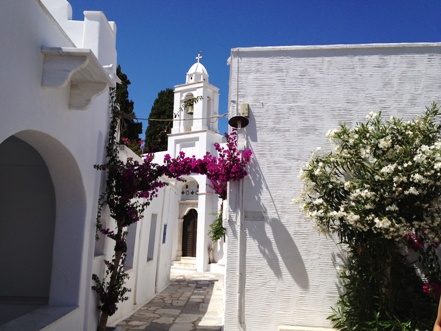 I returned Monday evening from 10 days on the Greek island of Tinos, where for the last three years I spend the week of July 4th. While the list of reasons my time there is paradise is long, having a Greek salad at every meal except for breakfast nears the top of the list. Greek salads are one of my very favorite dishes – Greek salads made in Greece, that is. Every Greek salad I had last week tasted slightly different, but they were all delicious.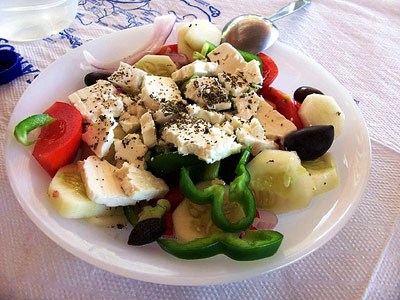 While it is challenging to replicate this fabulous dish at home, in D.C., with ingredients that do not come from the garden and feta that does not come from the goats in that garden, I have learned to make it taste almost as good. Here is how the Greeks (at least Tinians) make a Greek salad:
Ingredients
- Tomatoes
- Cucumbers
- Green peppers
- Onions
- Feta (a block, not crumbled)
- Olive oil
- Salt
- Dried oregano
- Capers (optional)
- Seaweed (optional)
- Olives (optional)
Preparation
- Cut the tomatoes in quarters
- Peel and slice the cucumbers in half moons
- Slice the peppers
- Cut the onions in quarters
- Put all the vegetables in a bowl, add a block of feta on top
- Add the salt, olive oil, and dried rosemary according to taste
Variations include the addition of capers, seaweed, and olives – but I like my Greek salad as simple as possible. Before paying attention to how a Greek salad really was made, the mistakes I made in preparing mine included:
- Slicing the tomatoes and onions instead of "quartering" them
- Not peeling the cucumbers
- Adding vinegar to the dressing
- Cutting the feta or using crumbled feta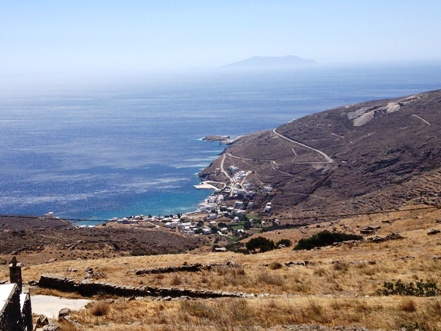 I don't cook – but even making a Greek salad is something I can do. It is the perfect summer dish, incredibly healthy (my mother -who is an MD- always told me that a tomato a day would keep the doctor a day), and it is my way of bringing a little bit of that Tinos magic back home.