Hyde-Addison students walk for homeless
Hyde-Addison students participated in the Fannie Mae Mini-Walk to Help the Homeless benefiting the Georgetown Ministry Center (GMC) during their fall festival celebration on October 28. The morning began with GMC staff and volunteers reading stories about and discussing homelessness with the children. Then, in their Halloween costumes, the children paraded around the neighborhood to raise awareness about homelessness.
Why do we hold these Mini-Walks? Because there are 3,500 individuals who are "literally homeless" in DC. Of those, about 1,000 are sleeping on the street on any given night. It is impossible to know because some don't want to be found. According to GMC director, Gunther Stern, "We participate in the Point in Time Survey each winter and we find about 70 people sleeping on the streets in and around Georgetown."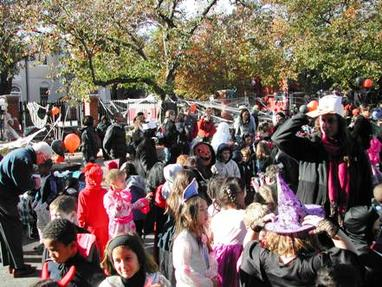 Fannie Mae reports that nearly 12,000 people in the Washington, D.C. metropolitan region are without homes and more than 40 percent of them are families. One in four is a child. Fannie Mae's Help the Homeless Program, which culminates with a fall Walkathon on the National Mall, raises funds to support organizations working to prevent and end homelessness in the Washington metropolitan area.
More than 700 Mini‐Walks are expected to occur from July to November in communities across our region. The Help the Homeless Walkathon will occur on the National Mall on Saturday, November 19, 2011 and it's not too late to participate. To register, simply fill out the form at www.helpthehomelessdc.org or call 202. 338-8301. The donation is $30 per adult (26 and over) or $20 per youth.