Hyde-Addison Project Faces Delay Until 2017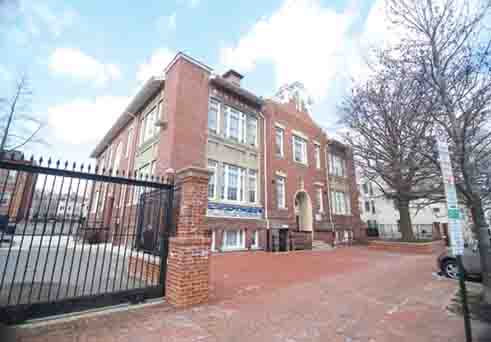 By Mark LiebermanCurrent Staff Writer
Students at Hyde-Addison Elementary School might move to the Meyer Elementary campus near Howard University during two years of construction at their Georgetown school, according to project officials.
Officials also announced that the long-delayed Hyde-Addison project's start date will be pushed off once more — from this coming summer to June 2017.
Plans to expand the overcrowded Hyde-Addison have been in the works for the past five years, aiming to provide the 3219 O St. NW school with more classroom space, a gymnasium, a cafeteria and other amenities. But the project has faced numerous delays related to budget allocations, historic preservation concerns and the need to excavate a large sewer pipe.
The latest issue emerged in December, when project officials backed off from a pledge that students could remain on campus during construction, deciding instead that swing space would be necessary to keep students safe and the project on schedule.
D.C. Public Schools studied three sites including Ellington Field in Burleith and Hardy Middle School in upper Georgetown for the feasibility of welcoming the Hyde-Addison student body for two school years beginning this fall. None of those options panned out, according to D.C. Public Schools chief operating officer Nathaniel Beers.
As a result, the school system has delayed the project start date until June 2017, when Hyde-Addison students can move into the Meyer campus, 2501 11th St. NW, for the two subsequent academic years. Meyer is currently serving as swing space for Duke Ellington School of the Arts during renovation of its campus, located just north of Georgetown in Burleith.
"The Meyer building will allow the use of an existing DCPS facility equipped with infrastructure, classrooms, administrative and support spaces," Beers wrote in a letter to parents on March 11. "The building will be able to provide spaces for the entire Hyde-Addison program."
Since that announcement, the Hyde-Addison School Improvement Team has sent several letters to city officials with objections to the plans. The team is calling for the long-delayed repairs to start this summer, speeding up the project timeline so that the swing space relocation would take place for only one year. They've also requested details about multiple swing space options for comparison purposes, and are expressing concerns about the viability of the Meyer option if the Ellington project isn't finished in time.
"It is unacceptable to delay our construction and spring an unknown swing location upon our school and families without adequate and timely information," the school improvement team's March 21 letter reads.
Beers told The Current that he can't commit to reducing the swing space duration from two years to one, but said the school system and the Department of General Services are looking at ways to minimize that time.
"We will continue to work with DGS and the construction partners to make sure that we are analyzing the length of time that is needed for this project," Beers said. "We all have the desire to get the kids back into a fully modernized space as soon as possible."
In terms of the schedule, Beers said some interior repairs at Hyde-Addison will take place this summer, but work on the pipe and new addition can't proceed until swing space is secured.
The school system is collecting comments on the proposed Meyer swing space through Friday, and plans to share that feedback with the community next month. The final decision on the swing space will come in May, according to Beers.
Beers described the Meyer campus as "the best option that we currently have," but added that "if community members have other options that we need to explore, we certainly can explore those other options."
Meanwhile, enrollment deadlines for next fall have left parents like Georgetown resident Kyle Yost unsure where to place his kids for the coming school year. Yost last year considered sending his daughter to a private or out-of-boundary school, but opted for pre-kindergarten at Hyde-Addison after hearing that its one-year renovation would start in 2016, with students remaining on campus.
Now Yost has to think about whether Hyde-Addison is suitable for the long term.
"There's no appeal to having my kids spend an hour a day getting bused across the city," Yost said. While he said he'll keep his daughter at Hyde-Addison next year, he's sending his 3-year-old soon to a private preschool in the fall while also contemplating a future move to the suburbs.
Yost said he believes the current facilities at Hyde-Addison aren't adequate for his children and others.
"There's no common space, there's no gym, there's no cafeteria," Yost said. "When she's in after-care, especially when the weather's bad, I would say it's not fine." His daughter often comes home with minor injuries on her elbows and knees because the most accessible playground facility is an asphalt blacktop, he said.
The subpar facilities continue to motivate school improvement team members like John Lever to demand expedited construction on the new building. Lever believes city agencies haven't been transparent with the group, and doesn't sympathize with their view that no feasible swing space options will be available for the coming school year.
"DCPS and DGS have done this behind closed doors without any regard to what it does to the community that we've been building for years," Lever said. "We deserve a world-class elementary school just like every other part of the city, and we don't need to be ignored right now."
Yost and Lever separately expressed confusion about the decision to pass over the Ellington Field as a potential swing space location, given that many Hyde parents believe it to be the most desirable.
Burleith Citizens Association president Eric Langenbacher said several concerns about the Ellington Field option emerged when his group distributed a survey to Burleith and Hillandale residents. Respondents worried about the impacts of ongoing construction at the Ellington School and nearby MedStar Georgetown University Hospital, among other issues.
Langenbacher also noted that Hyde-Addison's presence at the Ellington Field would disrupt operations of various other schools and organizations that already use the field for different purposes.
But Langenbacher stressed that the Burleith community supports Hyde-Addison and its modernization process.
"The people of Burleith are looking forward to joining the Hyde community once the modernization is complete," Langenbacher said. "The people of Burleith would love to look for another appropriate option."
Beers told The Current that using the field would disrupt traffic flow, and that the field's layout wouldn't easily accommodate trailers or adequate parking.
Georgetown advisory neighborhood commissioner Jeffrey Jones said he wants to see the school system commit to completing some of the most urgent repairs this summer. Otherwise, he told The Current, the Hyde-Addison community as it currently exists could be threatened.
Beers said the school system is keeping close tabs on the Ellington renovation, now scheduled to wrap up in June 2017, and believes his team will have enough time to change course if that project hits unexpected roadblocks.
School improvement team member Christine Churchill also said that transparency continues to be a major issue. Parents haven't met with school system officials since the March 11 announcement, and Churchill thinks that needs to happen soon.
"We have sent so many emails, so many letters, phone calls, trying to get someone in a position where they can actually have a back-and-forth conversation with us and some kind of troubleshooting, and they haven't done that yet," Churchill said.
Beers said a meeting with parents and the Hyde-Addison principal is planned after next week's spring break.
"We certainly don't want families to feel like they need to leave DCPS, and [we] want to continue to work together to make sure that they understand the huge commitment to making the space right at Hyde-Addison," Beers said. "We understand that the community has lived with inadequate space. We are committed to finishing that project. I would hope that people would see we're still making that commitment."
This article appears in the March 23 issue of The Georgetown Current newspaper.