Hurricane response wins praise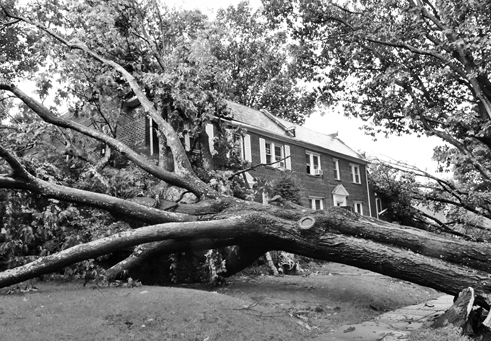 By Brady Holt...Current Staff Writer...
As D.C. officials wind down their cleanup efforts from the weekend's storm, the common refrain is that it could have been worse.
Hurricane Irene's outer edges brought down dozens of trees across the District overnight Saturday and left standing water on some D.C. roads, officials said. Winds gusted to 60 miles per hour and three to four inches of rain fell on the city.
But the District avoided the far-reaching wind damage suffered farther south and the large-scale flooding that hit areas to the north. It also escaped the widespread and lingering power outages many residents and officials had feared; at the peak, about 31,000 Pepco customers were without electricity, and most D.C. homes and businesses had their power restored relatively quickly.
"Overall, I would say D.C. gets an A on this one: residents, businesses, city government, everyone," said Ward 2 Council member Jack Evans, praising residents for heeding warnings and workers for speedy cleanup.
And Pepco? "They get an A for effort," Evans replied. "If my power were off right now, I'd be pretty angry, but I know they were quite prepared for the storm and are working diligently to get it restored."
Ward 4 Council member Muriel Bowser said she was also impressed with Pepco's preparations and response to the storm. "I'm just very pleased that we had a lot of neighborhoods that have persistent outages that didn't lose power this time," she said. "And I don't know if it's a function of how the storm has hit, or if the amount of improvements to the infrastructure that we've insisted on are starting to bear fruit."
There was one hiccup in Pepco's response, said Ward 3 Council member Mary Cheh: coordination with the D.C. Department of Transportation when a street tree had fallen across or was leaning on a live wire. "I have been dealing with emails from sites where DDOT was there with their crane ready to go, but Pepco hadn't turned off the power yet," Cheh said. But "by and large DDOT and Pepco are diligently working through the problem that we have."
A Pepco spokesperson didn't return messages this week. As of yesterday afternoon, there were 2,968 customers in the District without electricity, about a third of whom are in areas west of Rock Creek Park, according to the company's website. According to a news release from the Transportation Department, 11 traffic signals were also still without power from the grid yesterday afternoon, relying on emergency backups.
Transportation Department spokesperson John Lisle, whose agency is responsible for roadways and street trees, said all roads blocked by trees or other storm debris should now be open, and the last roadside detritus should be cleared away by the end of the week.
"Because of the combination of how much rain we got and the high winds, that's when you see a lot of these trees just start to give way," Lisle said.
Citywide, the Transportation Department has been addressing more than 670 work orders to repair storm damage, said Lisle, and the agency fielded 80 percent more calls for service than it did in the wake of a particularly destructive thunderstorm last summer. "I would say we certainly realize it could have been a lot worse than it was, but at the same time it did cause a lot of damage in the city," he said.
The D.C. government may be found liable for private property damage from a fallen street tree if the tree toppled because of a District agency's negligence, said Phillip Lattimore III, director of the D.C. Office of Risk Management.
"If a citizen called and complained for days or weeks on end that the trees are defective, we received information that branches were falling over a period of time … then if the tree falls, they have a case to make a claim," said Lattimore. "If we do not have any information that the tree was a problem tree ... then more than likely it would be a very difficult claim for a citizen to make."
Lattimore said no Irene-related claims had been filed with his office as of yesterday, but the office was fielding an unusually high call volume as residents asked about city responsibility for tree damage. Last year, the office paid 396 property damage claims out of nearly 2,300 filed, officials said.
This article appears in the Aug. 31 issue of The Georgetown Current newspaper.