Hungary Seeks Center Stage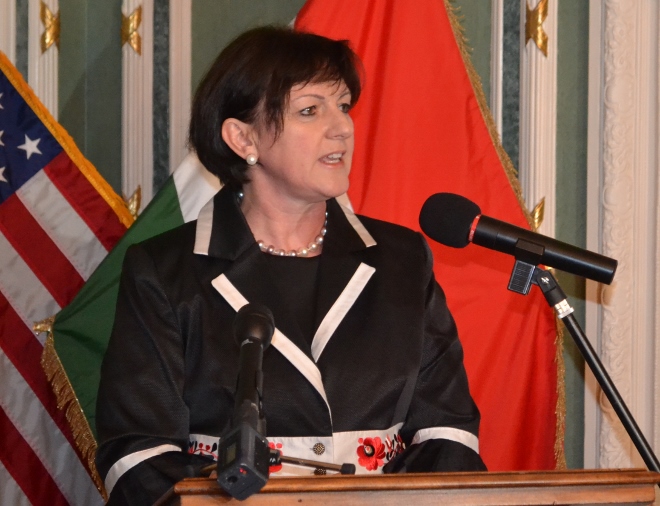 Hungary strives to be a major leading diplomatic player on the world stage, especially in the new administration of President Trump.
So to that end, on Tuesday afternoon, Hungary's Ambassador Dr. Réka Szemerkényi and Hungary's Minister of Foreign Affairs and Trade Péter Szijjártò, officially dedicated that country's new embassy mansion almost in the center of DC, just blocks from the White House and Executive Offices.
"I believe that the history of this European Beaux-Arts architectural style building is a symbolic connection that binds the United States and Hungary together," said Ambassador Szemerkényi.
In the "new world order ... and a new start in the relationship between Hungary and the U.S," Minister Szijjártò said, "….we look forward to cooperation" with the Administration on all levels, including economic and in the fight against terrorism. "We cross our fingers for Donald Trump" to make the United States a safe place, a great place." Such measures, he said, will make the whole world safer.
"Let's make the Hungarian and United States relationship great again, he said.
He also said that President Trump is right about fighting ISIS, and pointed out that his country has sent troops to fight ISIS.
Rep. Steve King, R-Iowa., stressed that a strong bond must be forged and kept between the Hungary and the United States. Congratulatory letters on the new embassy came from, among others, U.S. Attorney General Jeff Sessions, House Speaker Paul Ryan, Sen. Marco Rubio, Sen. Mark Warner and Sen. Dianne Feinstein. Sentiment among many is that previous U.S. administrations put Hungary on the back burner diplomatically.
The old embassy -- referred to by many as the Hungarian bunker or Communist Bunker -- was set up during the Soviet Union's domination of Eastern Europe. The so-described bunker is a couple of miles away in a relatively hard-to-find wooded area near Rock Creek Park where deer and raccoons are plentiful. The ex-embassy will be retained for office space.
The renovated mansion, built in 1879, at 1500 Rhode Island Ave., NW now serves as the main Hungarian headquarters. It is a masterful place for important meetings, seminars and cultural activities. Telephone inventor Alexander Graham Bell once lived there.
As one knowledgeable guest put it: "Hungary wants to be in the major leagues," and this move will help make that happen. In the recent past, he said, Hungary was pretty much off the radar screen when it came to status in the nation's capital.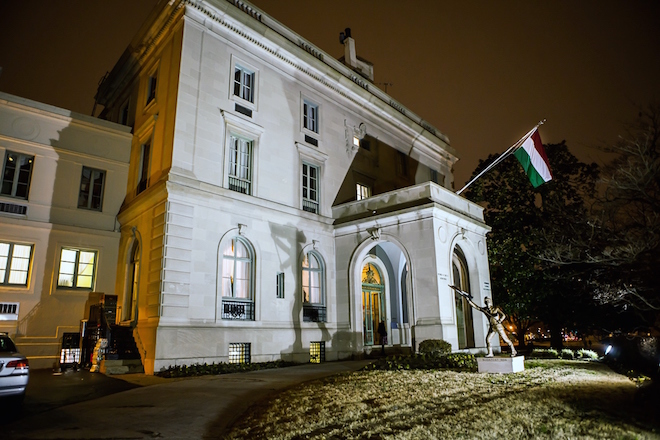 Several hundred invited guests attended the ribbon-cutting ceremonies, including Sebastian Gorka, of Hungarian ancestry and a counter-terrorism advisor to President Trump. Also attending were ambassadors from Angola, Azerbaijan, Kyrgyzstan, Luxemburg, Mali, Monaco, Montenegro, Peru and Serbia. Officials from Belarus, Cambodia, Georgia and Slovak Republic also attended.
D.C. interior designer Aniko Gaal Schott consulted in making the ballrooms culturally classy with soft hues, easy mingling spaces and comfortable seating. Christine Meyers restored a centerpiece – a ceiling mural in the midst of the mansion.