Human Rights Campaign Celebrates the New Congress
January 3, 2019 was a historic day. Nancy Pelosi regained the Speakership of the House of Representatives and more than 100 women took the oath of office in the House and twenty-three in the Senate. Progress is being made but there is still a long way to go.
Within the new class being sworn in were members of the LGBTQ+ community, Muslims, a Native American and the youngest African American woman ever elected. This is the most diverse Congress we have ever had and we must hope along with new representation will come some new ideas and the ability to move the nation forward.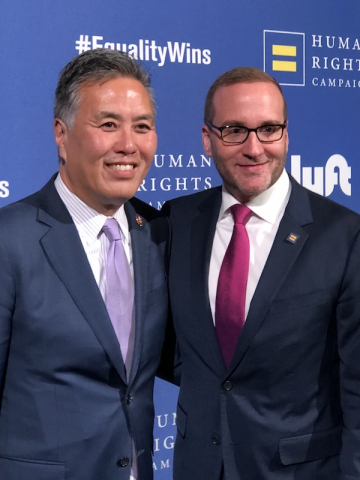 The Human Rights Campaign (HRC) invited members of Congress and their own supporters to a party to celebrate all the work they did to make this happen. HRC is the largest advocacy group for the LGBTQ+ community in the nation and while not everyone agrees with all they do or how they do it no one should question the success they had this past year. They do make a positive difference.
While not all the new members of Congress attended many because of the scheduled late votes and others who were just exhausted from the excitement of the day, there was a good representation of the Congress there. Those attending included Senators Amy Klobuchar (D-MN) and Tina Smith (D-MN); Members of the House Mark Takano (D-CA), Greg Stanton (D-AZ), Stephanie Murphy (D-FL) Donna Shalala (D-FL), and David Cicillline (D-RI).
Among other elected officials seen in the crowd were Brian Sims state representative from Pennsylvania and Secretary of State – elect Katie Hobbs from Arizona. Chad Griffin outgoing President of HRC introduced the members of Congress who spoke for about two-minutes each, which might be a record for their shortest speeches. Mark Takano proudly reminded everyone he will shortly be referred to as Chairman Takano, as he will become Chair of the Veterans Affairs Committee, only the third openly gay Chair the first being Gerry Studds and the second being Barney Frank.
Surely celebrations like this show how far we have come in what is really a very short time. It was great to hear the Speaker of the House say from her podium the Equality Act is a priority for her. In today's world of instant gratification it seems like it will have been a really long time in coming if it passes considering the first bill was introduced by Bella S. Abzug (D-NY) in 1974, a member of Congress I had the honor of working for. But to understand the timeframes of moving equality forward and gaining progress we only have to look to the Equal Rights Amendment (ERA) first introduced in the 1920s which is still not ratified.
It was a pleasure to chat for a few moments with Chad Griffin who will be moving on once HRC hires a new President. He is staying to make sure there will be a smooth transition and he can be justifiably proud of what HRC has accomplished during his tenure. They have grown exponentially and have set up offices around the nation. They have come through the most successful year ever when it comes to having a winning ratio of the candidates they supported. He leaves a great legacy to the person who follows him to build on. He said he chose to leave now to give his successor the chance to start what will be an exciting and important run-up to the 2020 elections. Chad will be missed but as he himself said no one is indispensable and there are many people out there who will be able to lead HRC and our community to new heights.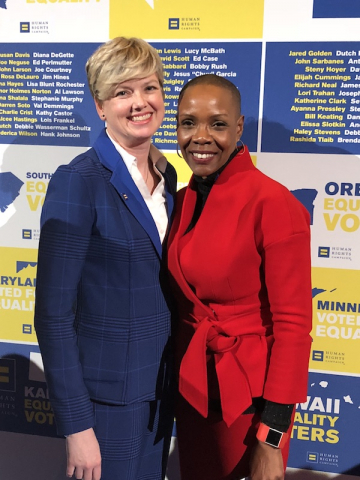 The real heroes in many ways at the celebration were the supporters of HRC who gave money and endless volunteer hours so the newly elected LGBTQ+ members of Congress and those members of the community who won other races across the nation could succeed. As Hillary Clinton wrote, "It takes a village", and the village of the LGBTQ+ community is strong and vocal. We don't always agree with each other, we fight with each other as every family does, but we do share one goal; full equality both politically and economically for all. I saw many of the staunchest supporters of HRC and fighters for our community there including Amy Nelson and June Crenshaw, Christofer Horta now working as an LA for Donna Shalala, Steve Clemons Washington Editor for the Atlantic, Lt. Brett Parsons of the DCMPD, and Aaron Tax of SAGE among so many others. They represent the true heroes of our community's success.
*/
One only hopes there will be many more such celebrations in the future. This column first appeared in the Washington Blade.