House Tour Dazzles with Traditional and New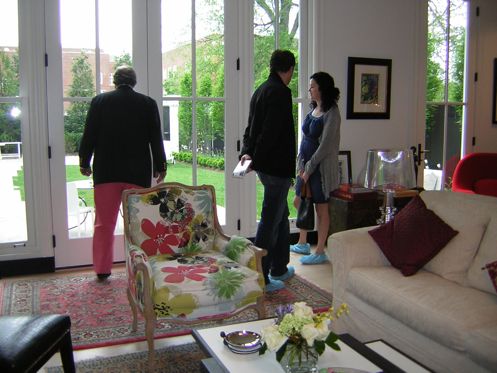 Georgetown resembled something between an anthropoligical study site and a festive house hop by old friends and neighbors Saturday afternoon. It was the annual Georgetown House Tour, a popular tradition and a labor of love. Curious lovers of houses, history and culture from near and far ambled along the study path, not with binoculars, but booties -- blue covers for shoes, obediently worn in each house to protect the highlighted homes.
For generations, Georgetown families have opened their houses to neighbors and others to raise funds to support the charitable programs of St. John's Church, including the Georgetown Ministry Center, Bright Beginnings, the Georgetown Seniors Center, Episcopal Seniors Ministries, Spritual Formation, and the list goes on.
Frida Burling, contributor to The Georgetown Dish, is a major force behind the tour, now joined by Washington Fine Properties, its major corporate sponsor.
Each year, the tour gets more interesting and diverse. Earlier we caught up with the eclectic artist's abode of Charles DeSantis.
The tour went on to feature a summer house turned year-round playground, examples of exquisite classic and modern interior design, and luscious gardens.
Image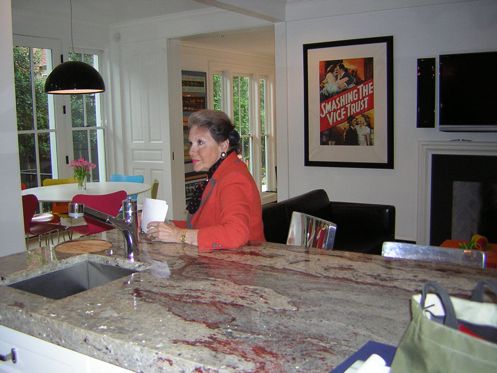 Cyd Miller Everett feels at home in the kitchen of House #1, formerly the summer house of Yolande Fox, where notable visitors to Washington such as Diane Keaton, Warren Beatty and White House officials sought refuge from the capital's sobriety. Carter Administration Chief of Staff Hamilton Jordan occupied a small room. Eventually the boisterous entertaining in and out of the pool attracted a gentle presidential reprimand. Modern touches to this unusual playhouse were designed by Hugh Newell Jacobsen.
Image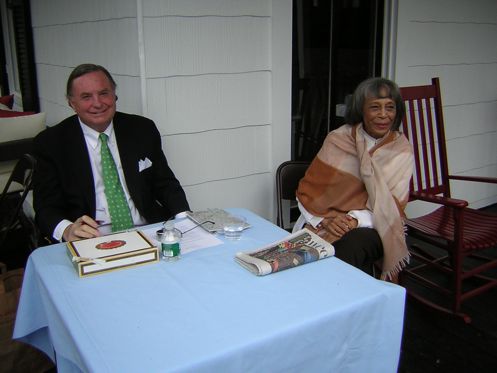 Bob Barron and Betty Pegues welcome visitors to the "summer house."
Image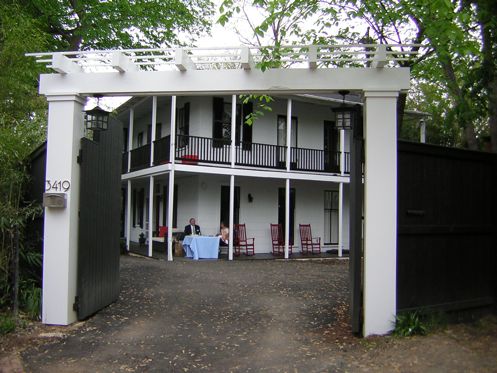 Entrance to the sumptuous compound of House #1.
Image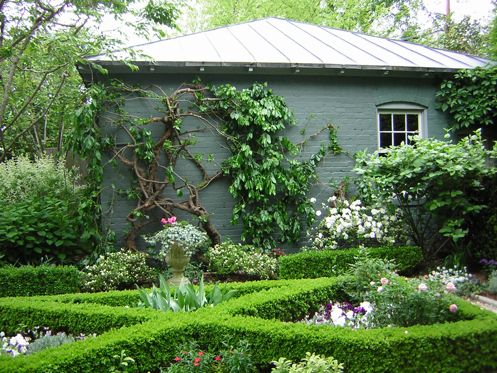 House #2 is one of the few examples in Georgetown of a "late Victorian cottage," according to the Historic American Buildings Survey of 1968. It was built between 1878 and 1880 by Albert B. Jackson for $4000. Hugh Newell Jacobsen led an extensive renovation in the 1960s.
Image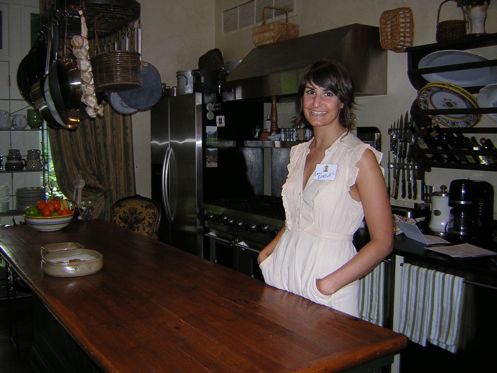 Erin Zurflu, a Georgetown medical student, takes time away from her studies to volunteer for the tour. She was recruited by super Georgetown volunteer Leslie Kamrad.
Image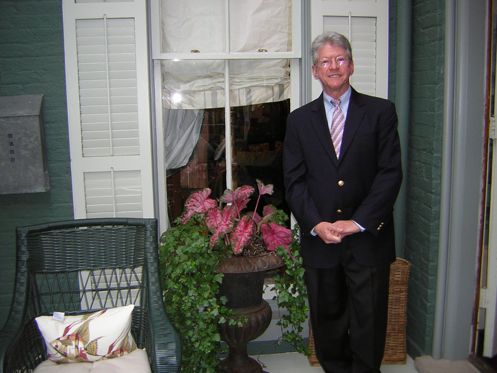 Greg Doherty of Coldwell Banker watches over the Fairbanks family house during the House Tour.
Image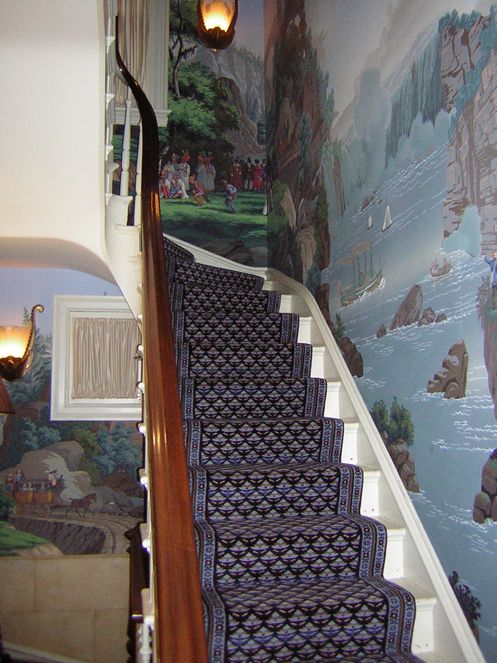 Victorian grandeur in a staircase at the Fairbanks home.
Image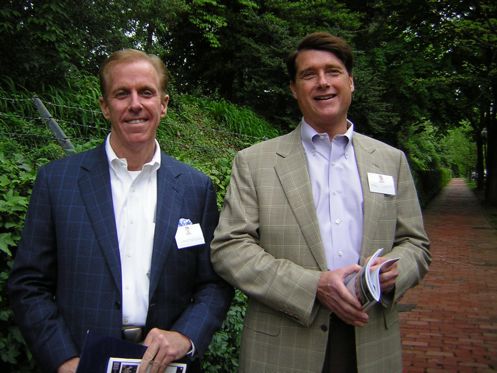 Tom Anderson and Marc Schappell of Washington Fine Properties are major sponsors of the Georgetown House Tour. "We believe in the community," said Anderson. "We live here and we're committed to it."
Image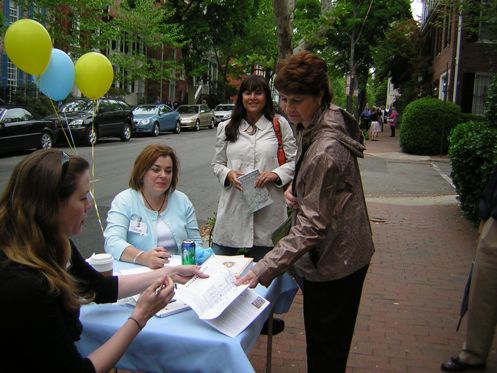 Alexandra Small and Sharon Alexander help a visitor (right) while Citizens Association of Georgetown president Jennifer Altemus looks on.
Image
Allyson Bolen and Leslie Maysak take in House #3, a fabulous renovation evoking the 1940s of France, 1960s art, and Asian inspiration, owned by a Manhattan couple.
Image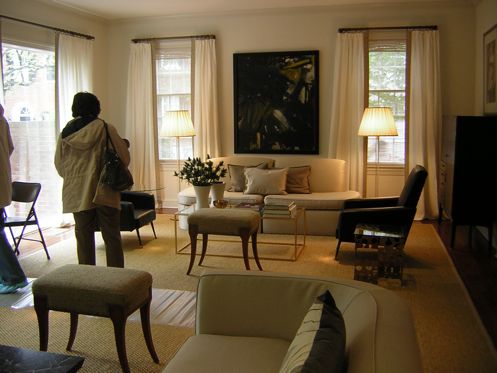 "Traditional modernity" in House #3.
Image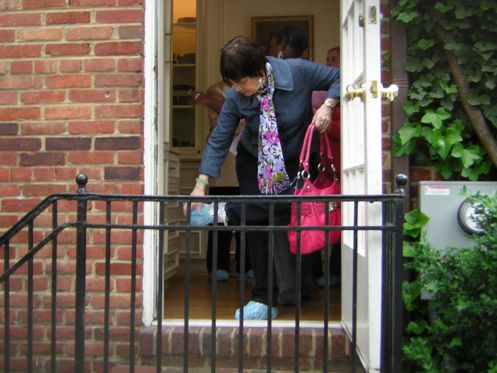 Booty call. Protective footware was de rigueur on the House Tour.
Image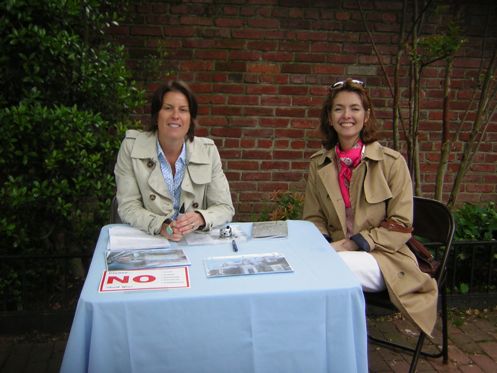 Marla Moroscak and Veronica Pastor guided visitors along the tour.