Horton's Kids Give Thanks and Give Back Gala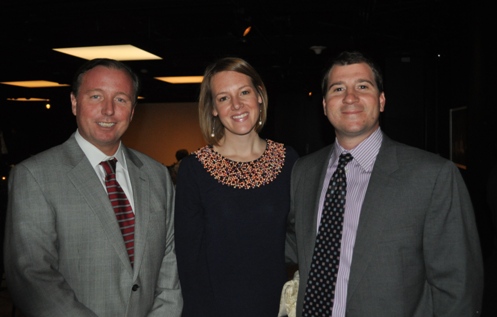 Horton's Kids Give Thanks & Give Back Gala was held Wednesday, November 14, 2012 at House of Sweden with Jon Scott, Co-Anchor for FOX News "Happening Now" coming down from New York City to serve as emcee. Over 200 people attended raising $100,000 to support Horton's Kids programs.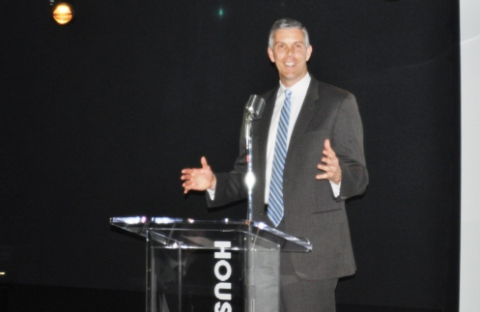 Secretary of Education Arne Duncan spoke to the significance of non-profits such as Horton's Kids telling a story about how a program similar to Horton's Kids provided clothes, food, and educational mentoring to his father as a boy and how his father then brought him up to believe in the opportunities a good education provides. Secretary Duncan also addressed the importance of strengthening the D.C. public school system so that every single school in D.C. will be a great public school and become a great urban school system recognized world wide. His father taught him from first-hand experience that if children are hungry it is hard to learn. On that note, Secretary Duncan encouraged everyone to reach a little deeper into their pocket to support Horton's Kids.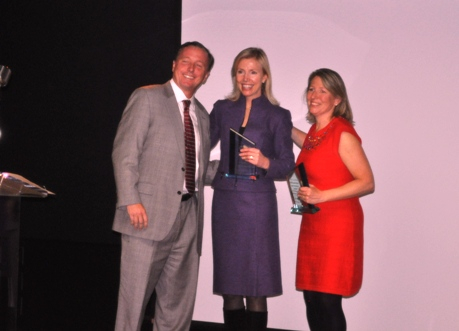 Dan Walsh, president of the Horton's Kids Board of Directors, reviewed the significant progress of Horton's Kids, including the make-over of the community resource center with support of First Lady Michelle Obama, Microsoft, Home Depot, and the Food Network. Walsh also gave the Horton's Hero Award to the Give Thanks & Give Back event founders and Horton's Kids Board Members, Liz Dougherty and Mary Ellen Matheson, noting that the event has grown in size and donations over the past four years.
Jenny Zinn of The Magic Wardrobe got many Georgetown businesses to contributed to the silent auction, including: The Dandelion Patch; Macaroon Bee; The Magic Wardrobe; Salon Pejman; Ella-Rue; Potomac Wine & Spirit; Filomena's; Lush; Cafe Bonaparte; The Boomerang Boat; and a photo shoot styled by Jenny and photographed by Liam Gideon.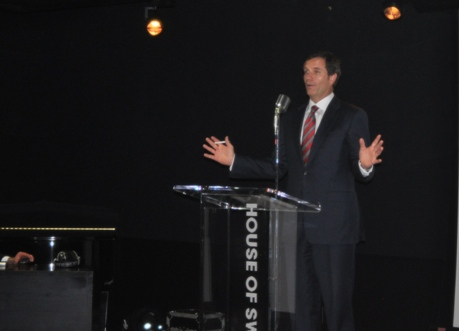 A private bourbon flight tasting for you and your guests at Jack Rose Dining Saloon sparked much interest and conversation. Georgetown photographer, Tom Quiggle, donated his photography services; JSWGroup and OtimWilliams donated their PR services; and House of Sweden provided a budget-friendly venue. Wine Spirit Wholesalers of America and National Beer Wholesalers Association donated the wine, spirits and beer for the event.
Event Co-Chairs include Lawton and Craig Cummings; Liz and Paul Dougherty; Fernanda Fisher; Juleanna Glover; Kelly and Joh Lugar; Mary Ellen and Colvin Matheson; Emily and John Pappas; Madeline Ramos; Liz and Dave Roberts; Janine Schoonover; Hannah and Mark Simone; Bill Starrels; and Jim Wilcox.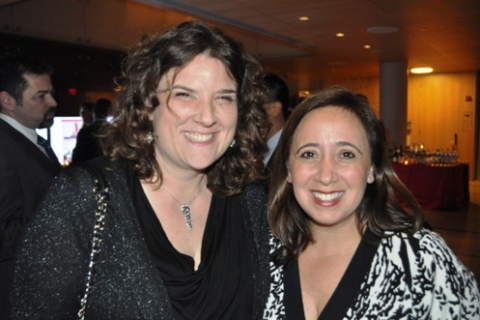 Horton's Kids Community Resource Center provides nutritious meals and healthy food; family education and empowerment; career and life skills; school uniforms and supplies; clothing and shoes; holiday celebrations; and educational advocacy. To make a donation or contribute food to the food panty for the Holiday season, please contact Lisa Peri, Director of Development, at 202.805.3475. Horton's Kids is a recipient of The Washington Post Award for Excellence in Nonprofit Management.
Written by Janine Schoonover, CEO of JSW Group