Hope to Hope Town: Part Two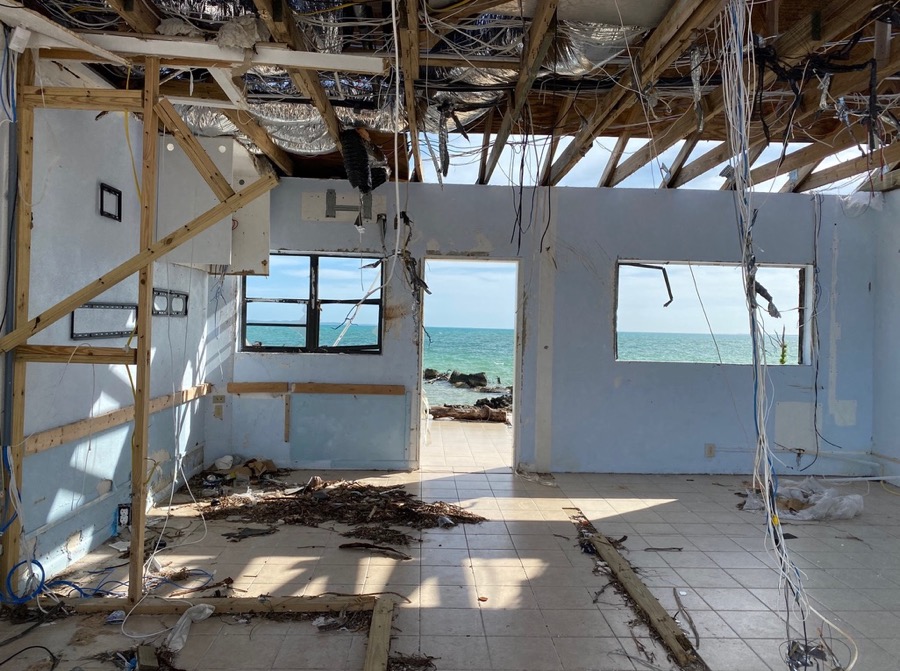 After a rainy and delayed start to the morning, we left Ft. Lauderdale in a small twin engine plane bound for Marsh Harbor, Great Abaco.
I asked the pilot about flights in and out, from his personal experience. 'The last flight I made in there was not many hours prior to the hurricane. Taking people out, I assumed. 'No, crazy enough, I flew people in, to their homes. They wanted to be there.' The drone of the propellers made it tough to hear. '48 hours later, I flew the same people back out.' It was crazy for a few weeks, so many flights trying to get people out, relief workers in. The last evacuation flight was a few weeks ago - with 18 dogs, for a rescue operation.'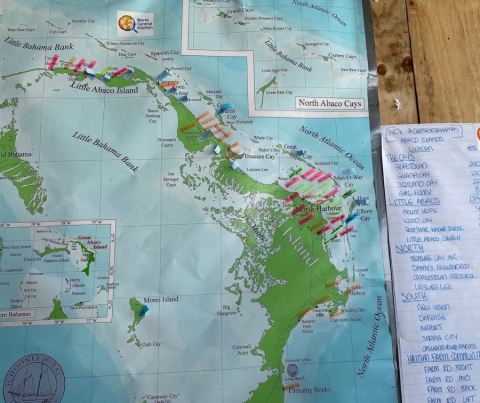 The island of Great Abaco came into view, it was cloud covered, Flat. Very, very flat. Marshy. The pilot made a beautiful landing and we taxied down the short airstrip. 'Airport was closed for 2 days, it was totally flooded, debris all over. But a few runways got cleared.' I looked over at the tower. The top was ripped off, debris hung on the sides.
'How does it operate without a tower?' I asked.
'We don't work through a tower, we talk to each other, plane to plane. It works fine.'
We swung around and headed for the small private area and pink customs house. The ferry operator had sent a truck for our equipment, and we could see it waiting at a chain link fence. 'that must be your pick-up,' the pilot said.
Apparently when Brid had contacted the ferry operator to see if he could load 1800 pounds of equipment on the ferry, the operator had offered transportation. 'You're doing this for Hopetown, we can do this for you,' he said.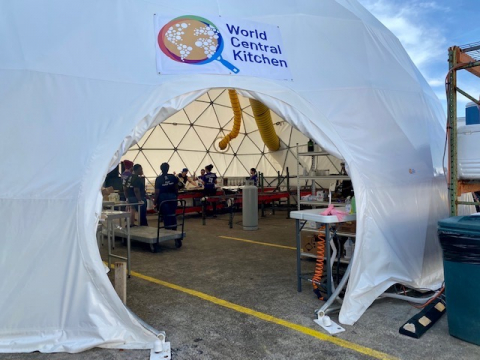 We walked through the tiny customs building with a list of equipment that needed to be approved. For that, we'd have to go to the government customs house. The ferry didn't leave for a couple of hours, so we took off in a separate truck for the government house.
Marsh Harbor, at first glance, was a war zone. Piles of debris that had been houses, destroyed cars and trucks lay where the storm surge left them, glass and twisted iron and furniture and wires were everywhere. Most of the cars or trucks that were operational had broken or no windshields. I had heard from Rob Wilder that Jose Andres had a World Central Kitchen operation in Marsh Harbor – I texted him before I left Florida and asked where it was, and received a screenshot of a map that pinpointed the location. After leaving Customs House, I leaned over and asked our driver, a pastor, if he knew where the WCK was – 'yeah, sure, it's a mile or two from here.' 'On the way to the ferry.'
We stopped at the huge dome, introduced ourselves, and got a short tour. The dome that has been developed is completely portable – it fits into a 4x6 foot plastic container. The operation was efficient and amazing – they were preparing 800 meals that day, 4 months after Hurricane Dorian devastated the area.
Cat, the chef in charge, showed us around, while supervising the tremendous vats of chicken curry and rice pilaf lunch, delivered hot to the surrounding islands still in need.
She showed us the map with the areas still served. 'Ground zero for this hurricane was Abaco and 4 or 5 Cays. Man O'War, Elbow, Guana, Green Turtle – Freeport, Grand Bahamas. It made landfall as a category 5 at 185 miles an hour, sustained, with gusts up to 220.'
Someone had said to think of Abaco as Florida. 'Florida has keys, Abaco does too.' We were heading to Elbow Cay, a 30-minute ferry ride to the east.
The large map showed location drop offs and numbers of meals needed. Twice a day, large foil containers of hot meals were delivered by ferry. Small individual containers and cutlery were provided, with fruit for dessert. Apples, oranges, bananas. They used helicopters and sea planes for the first few weeks, prior to the ferries being back in operation. There was also the question of docks – most had been destroyed and there was no place to tie up.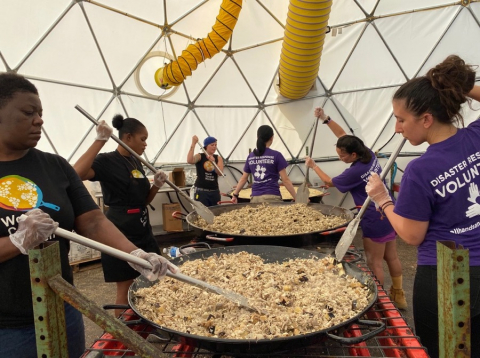 The operation is efficient and self-contained, and has made a name for being in place and offering hot meals within hours of a disaster. Later, when in Hope Town, I talked to an NGO who told me that other food-based operations deliver rice and canned food supplies, but the World Central Kitchen delivers hot meals. 'It all helps, certainly. But sometimes people have nowhere to cook a meal, they've lost everything, or utilities are down. But having hot meals twice a day? World Central Kitchen saved lives, lifted spirts, provided hope.'
We said our goodbyes and headed for the ferry and met the ferry operator who had sent the truck. We asked him how the boats did through the storm. "Well, we had 17 ferry boats before the storm. Sheltered half of them in Man O'War, the rest on land, and tied up at various docks. One survived, the one you are on.' He pulled away from the dock. 'On Man O'War, a barge broke loose and crushed 6 of them as if they were toothpicks.'
As we made our way to Hope Town, the lighthouse came into view and we rounded the bend, coming into the harbor. We stood silently as we saw the shoreline in the late afternoon light. It was hard to describe, so very different than 4 months ago. No one had died here, I reminded myself. How? I wondered as I looked at the shoreline. Buildings gone, twisted, mostly missing. The lighthouse was still standing, the keeper's house was tarped as were most of the buildings around it.
I thought about the lives lost in Marsh Harbor, the families, and wondered how no one died here on Elbow Cay.
*/
I had not yet heard the stories of survival.
*/