Homage to "Julia"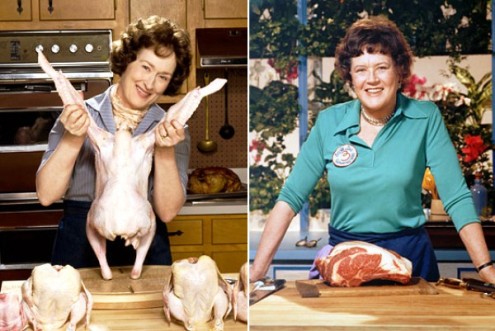 by contributor Donna Shor
What would have been the late Julia Child's 100th birthday is being observed in restaurants across America with special dishes prepared in her honor through August 15.
Washingtonians are lucky because at his Pennsylania Avenue restaurant, Central Michel Richard, the famed chef has re-created a very special dish he served his friend Julia years ago in Los Angeles. Michel Richard has named it "Chicken Julia," and it is delectable. It's Michel Richard's Homage to Julia.
He has set a high standard in creating this tender and flavorsome dish from a fowl that can sometimes be bo-o-o-r-ing. Instead, Richard has managed to build in so many subtle flavors, it is almost like a new kind of meat. The portions sit in their plate in a silky pool of just enough glazed sauce, ringed about with an excellent ratatouille that puts the usual versions to shame. He included the vegetable dish as a bow to Julia's happy years in Provence, where ratatouille was born.
Read the entire article here.