From hinterland to Hilton: Hanoi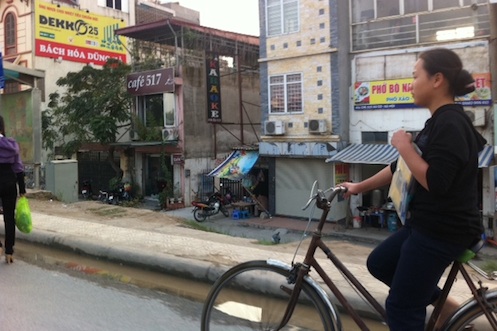 It was dusty, it was loud, it was probably dangerous. But it was Sunday morning on the streets of Hanoi, Vietnam – a good day for a bike ride. A bike ride? Why not. There's no better way to get a feel for a place quickly.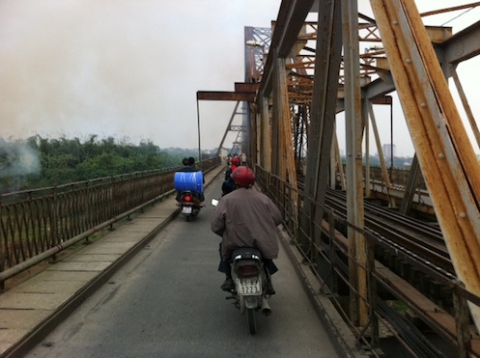 Except. There were no signs of "rental bikes." English speakers are rare. The streets are crammed with honking motorbikes – the primary mode of transportation in this emerging, recently rural economy.
I steered clear of the concierge desk at the Hilton, fearing the earnest and business-like bunch would discourage this potentially risky and certainly off-beat trek. Then, I started to walk in search of a bike.
This quest was a bit of a repeat of 1983, when, during a summer of language study in Shanghai, China, a pal of mine and I commandeered a couple of heavy-duty three speeds, and, breaking the law restricting foreigners' movement outside approved zones, hopped a train to Suzhou, about two hours from Shanghai, and biked the 10 hours through the countryside back to school.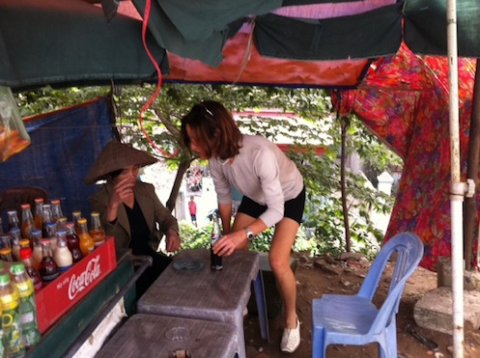 It was an unforgettable journey through rice paddies, amid water buffalo under a blazing sun, and farmers and villagers who had never seen white people before. As we stopped in towns to drink the available beverage – warm tea served with a ladle out of a big bowl (no ice, no refrigeration to be found) – we would attract instant crowds. Children touched our clothes and hair, as if examining visitors from Mars.
"Hello!" was the one word every Chinese knew and would repeat over and over. They were surprised but happy to see us.
As we took short breaks to down quarts of sun-warmed tea, local police officers would see the crowds forming and approach. This was our signal to jump on our saddles and hightail it out of town, not having traveling papers and all. We were 16-year-olds on a mission – and sort of on the run.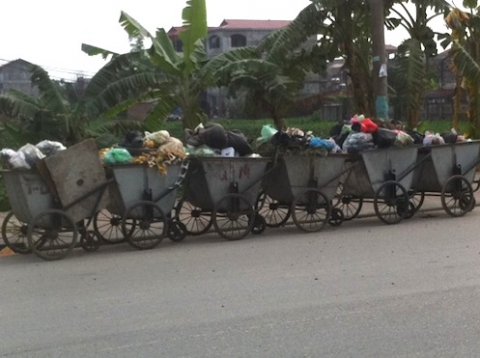 Twelve hours after our journey began, we limped into Shanghai, exhausted but happy. It was the adventure of a young lifetime, worth every bit of the sun poisoning and dysentery that followed.
Hanoi on the cusp of 2012 is somewhat reminiscent of Shanghai in 1983. While there is wealth in the city, a journey just a few miles outside exposes poverty and existence that looks hard. In fairness, much of the population beyond the cities has iPhones and motorcycles. They just don't seem to have much else.
As I began my journey, eyeing a row of one-speed bikes on a side street downtown, I signaled to a fellow in coveralls that I would like to rent a bike. "That one." He shook his head, no. He pointed to a motorcycle. I smiled and pointed to a bike and a lock, speaking loudly like a dumb tourist in a language he couldn't understand. He brightened as I reached into my purse. I slipped him a $20. We had a deal. No paperwork about the rental, no worries. I was on my way.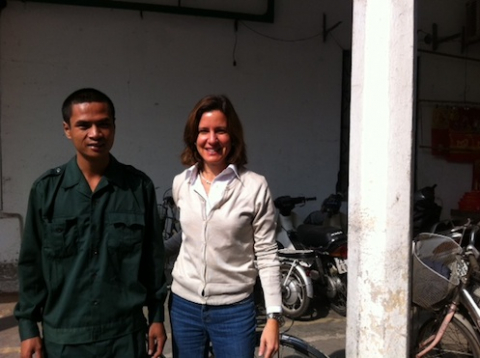 Did he wonder if I would be back? The derailleur started to make a continuous screech about five minutes out of town. Hence, this escapade would not include a theft.
The Vietnamese government based here is still Communist, and very close to China. Yet, the U.S. has had a trade agreement in place since 2001 – supported strongly by Sen. John McCain (R-Ariz.) – who has been a loyal if unexpected friend to this previous U.S. foe.
Near the end of my journey through scruffy, dusty towns and farmland divided into tiny plots, a young man was lying on the street in heavy traffic, stunned and looking at the sky for 20 minutes as I watched, disturbed and feeling helpless, in a crowd that formed. There was no 911 to call, no ambulance. A mob formed and roughed up the motorbiker who apparently struck the younger fellow. Blood dripped from both their mouths. Horns honked and traffic moved on. The younger man was carried to the side of the road as I left.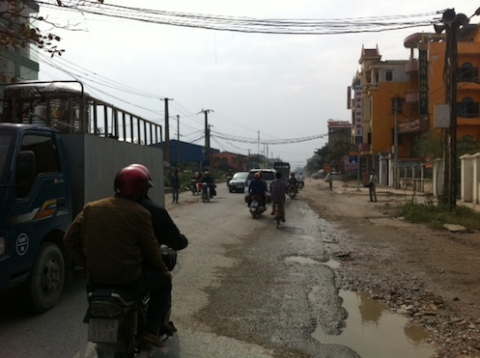 While friendly conversations in sign language with the peaceful Vietnamese during my journey were numerous, there was no English spoken outside of Hanoi. This is worrisome for a country that needs foreign investment to advance.
In 2010, the average Vietnamese earned $1218. Yet Goldman Sachs says Vietnam will be the 17th largest economy in the world by 2025, quadrupeling individual income.
After indulging in a $4 foot massage and a $14 facial back in Hanoi, I started to learn more about this economy. Afterward, the smiling facialist hopped on her moped, like throngs of other young Vietnamese, and gamely sped off into the night, in search of....