Hillary Clinton's mother dies at 92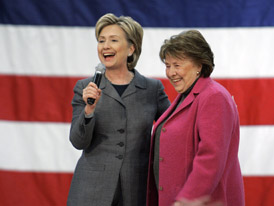 Dorothy Howell Rodham, the mother of Secretary of State Hillary Rodham Clinton, and mother-in-law of former president Bill Clinton, died early Tuesday morning at George Washington University Hospital. She was 92.
Clinton had canceled a trip to London and Istanbul to be with her mother. Dorothy Rodham had overcome years of struggle to become a powerful influence on her daughter. Her remarkable life is chronicled in The New York Times.