Hillary & Chelsea Clinton Celebrate Bicentennial at Foundry United Methodist Church
On Sunday, September 13, 2015, Hillary and Chelsea Clinton were the invited speakers at the service culminating the year-longbicentennial celebration of Foundry Inited Methodist Church. It was a welcome home service for the Clintons who were regular worshippers at Foundry during the time Bill was in in the White House. President Clinton was there to hear them speak.
Foundry chapel was dedicated on September 10, 1815 at 14th and G Street, NW. The original church was a gift from Henry Foxhall, Mayor of Georgetown, who promised to build a church as a gift to God if his foundry wasn't burnt to the ground during the War of 1812.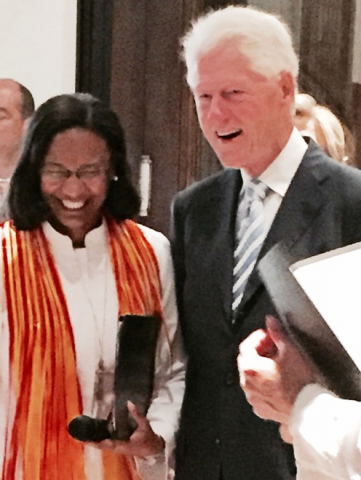 The congregation welcomed the Clintons warmly as family, giving them a number of ovations. Senior Pastor Ginger Gaines-Cirelli introduced both and spoke of Chelsea's time in the youth ministry and about al Hillary has done over the years to inspire her and others. Councilmembers Jack Evans and Anita Bonds, both members of Foundry, presented the church with a City Council proclamation celebrating their bicentennial. Evans kidded that his triplets were born when Bill and Hillary were in the White House and turned eighteen anc can vote For Hillary.
Before the Clintons spoke, the Foundry choir sang and the orchestra played. the talented members of both groups are a delight to hear. Meaghnan Mullins then read spripture from Romans 12.
Her flight delayed, Chelsea arrived just in time to speak. She is a highly educated, charming and polished young woman who spoke about what Foundry youth ministry meant to her growing up. She spoke about learning about diversity being involved in the community. She then kidded, "I raced to get here this morning and now will race home because my husband is Jewish and we will be celebrating Rosh Hashanah with our family this evenine."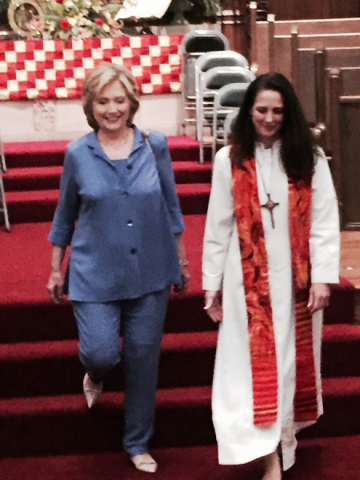 Hillary spoke about her faith and being brought up Methodist and what it meant to her to be a part of the Foundry family. She said she was proud Foundry became a reconsiling ministry during the years she attended. She spoke about Romans 12 saying, "When we say 'love others like we love ourselves' to make that real we must first learn to love ourselves." She then kidded how the Pastor mentioned that to her and she said she will now make an effort to be nicer to the press.
Foundry is a true community institution. The have active missions in such areas as homelessness, prison reform and immigration. Foundry's mastors and members have made a positive difference in the District of Columbia since the church was founded 200 years ago.
Over the years, worshippers have included not only diverse community leaders but numerous Presidents including James Polk, Abraham Lincoln, Andrew Johnson, Rutherford Hayes, and William McKinley.
The current location on 16th and Church Street, NW was dedicated in February 1904. With the new building, the church coninued to attract luminaries and Presidents to worship with the congregation and speak there. They included William Jennings Bryan, Presidents Calvin Coolidge, Herbert Hoover, and Franklin Roosevelt, who brought as his guest Winston churchill, and of course President Clinton and his family.
My first invlovement with Foundry came through a meeting with Dean Snyder, Foundry's immdeiate past senior pastor. I met him during the fight for marriage equality in the District of Columbia of which he was a leader. He always gave wise counsel and invited our organization, the Foundation for All D.C. Families, to hold its first organizing meeting at Foundry. Over the years, I have always been made to feel welcome at Foundry. It made no difference I wasn't a Methodist. They always have open arms for me and so many others in the community. I have many good friends, including Pul Hazen, who continue to be active leaders at Foundry.
We are fortunate to have Foundry in DC and know it will remain a beacon for good works as they begin their 300th year.