Here kitty kitty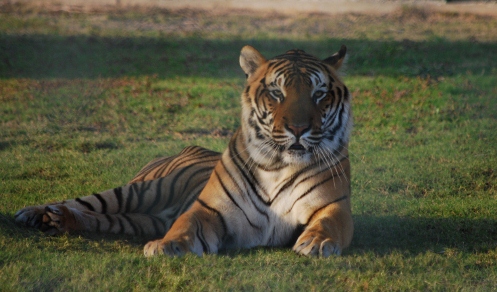 In this ultra-modern United Arab Emirates (UAE) capital of Abu Dhabi, where many Germans, Russians and Brits vacation, there is a private sanctuary miles from the high-rises where exotic orphaned animals have found a home. It's not like taking a nearby subway or walking a few easy blocks to the National Zoo in D.C. Here, if you know about it, you know about it.
Our tiny group from the DC area learned about the lovely sanctuary from a former Montgomery County family now working in Abu Dhabi.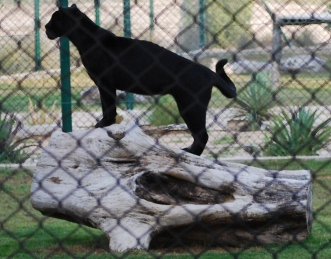 Where do these beautiful animals come from to find peace in an expansive man-made oasis in the desert?
"From people who have too much money and wanted exotic pets," said Steve Smuts, our guide -- one of the 15 staffers -- who speaks with an accent tell-tale of his native South Africa. His mother, Ronel Smuts, manages the sanctuary. Others –for instance, the ostriches -- were given to the sanctuary by people who stayed in the UAE awhile but moved elsewhere.
Founded and funded more than three years ago by wealthy Sheikh Mansour Bin Zayed, the Abu Dhabi Wildlife Centre houses 120 "cats" and a total of about 400 other inhabitants. "He does this for the love of the animals," said Steve. "He pays out of his own pocket."
Some illegally smuggled-in animals were "let loose on the streets" or authorities confiscated them as they were seized on the gulfside docks or at the airports, Steve explained. There is a massive black jaguar, lions (including a white lion family), tigers, ocelots and other smaller cats, monkeys, rare Arabian wolves, deer and birds of many varieties. Over time, some of these cast-offs bred; their offspring, too, live here safely protected.
This is a country whose people love cats. That means lions and tigers, as well as the domestic version. But, as these bigger "pet" cats grow up, they are harder to contain in the garage or yard. Sometimes a neighbor will report the keeping of illegal cats to the authorities. The sanctuary may then gain another occupant.
Unlike D.C., walking a dog in the morning or evening for its constitutional isn't a common sight in the residential neighborhoods or parks hereabouts. Rather than pets, dogs are more considered outdoor, work animals, said our American driver.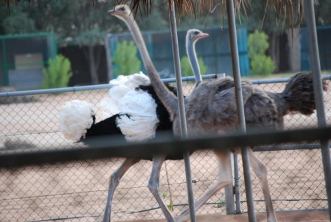 The center, about a half hour from the main city next to an industrial area, is open to the public. About 20 or so people visit it a day, said our guide. It is not easy to find by car. After negotiating "roundabouts" where the traffic moves far faster and more unnervingly than on D.C.'s traffic circles, we met up with the sanctuary guide at a gas station featuring a McDonald's. Then we followed along a bumpy road in the desert past industrial and construction sites to the sanctuary and its hundreds of hose-watered trees.
Some of the animals were shy; others came right up to the fence, and some loped along as we drove past, apparently thinking we were the feeding crew that was to bring their dinners shortly.