Herb Miller travels to party for Ward 4 Councilmember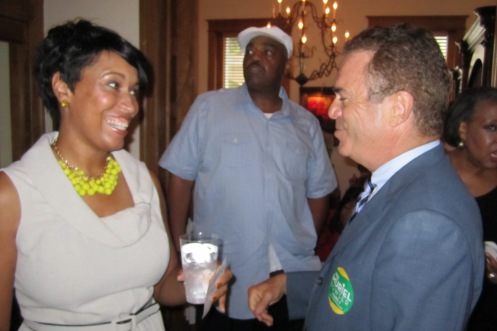 Developer Herb Miller left Georgetown last week to go all the way to a fundraiser birthday party for Councilmember Muriel Bowser in Ward 4, the top corner of the District, including neighborhoods like Shepherd Park, Takoma, Crestwood and Petworth. Why the special effort? It could be simply that Bowser is friendly and popular, representing the Ward where former Mayor Adrian Fenty got his start. But the 39-year-old lawmaker was also just picked to head the Government Operations committee of the Council and will have a say on future projects at Walter Reed, soon to be turned over to the District.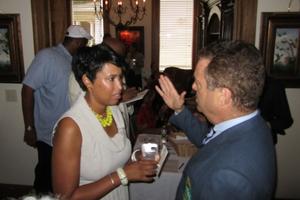 Miller is best known for developments in Georgetown, including Washington Harbour and The Shops at Georgetown Park, downtown's Gallery Place and, in Virginia, Potomac Mills. Miller has experience doing developments large and small.
The enthusiastic Ward 4 crowd gathered in the backyard to hear Bowser's talk. She renewed her commitment to schools, "transforming our corridors," including replacement of the Safeway on Georgia Ave., "to grow our neighborhoods the way we want them to grow," and bringing back a long-remembered eatery and hangout, Billy Simpson's. Pledging a grassroots campaign, Bowser also touted her accomplishments, including the renovation of the historic Petworth and Takoma neighborhood libraries, new bike trails, and improved streets, trees, and alleys.
Ethical problems roiling the Wilson Building got only one oblique reference when Bowser said, the "news has been down lately" but we're "getting things done." Left completely unacknowledged, although Bowser strongly backed him for reelection and continues to use his green campaign colors, was former Mayor Fenty, her original political sponsor.
Bowser is one of only three Councilmembers who have spoken out about charges that Councilmember Harry Thomas Jr. misused $300,000 in taxpayer funds to pay for personal expenses such as golf outings.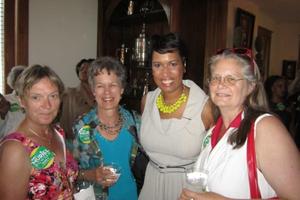 Bowser's kickoff was supported by former women Councilmembers, including Sharon Ambrose (Ward 6), Kathy Patterson (Ward 3) and Carol Schwartz (at-large), who were in attendance, and Eydie Whittington (Ward 8) and Charlene Drew Jarvis (Ward 4) on the invitation. Current Councilmember Mary Cheh stopped by the upper northwest bed-and-breakfast. The women-power message was reinforced by Schwartz, who pointed out that at one point the Council was majority-women, but "is now down to three and we don't want to lose her (Bowser)." At the moment Bowser faces minimal opposition.