Help the Homeless Taste of Georgetown VIP Lounge June 2nd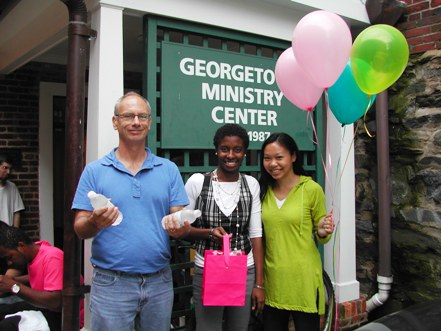 Stop by the VIP Lounge at the Georgetown Ministry Center Saturday, June 2, 2102 from 10:30 am to 12:00 pm. It's the first Fannie Mae Help the Homeless event of the year at the Taste of Georgetown.
While you're enjoying Taste of Georgetown, it's a great time to think of others less fortunate.
Georgetown Ministry Center provides services to 700 homeless people each year. Services include showers, laundry, coffee and computers as well as a mailing address and use of the phone.
Last year the combined Help the Homeless events raised over $180,000 for the center. Community events are a great way to increase the awareness about the issue of homelessness while raising critical funds. More than 700 Mini‐Walks are expected to occur from July to November in communities across our region.
Twenty dollars for anyone age 25 or younger, and $30 for adults over 25. Register at Help The Homeless Walks or call 202.338.8301. Enjoy ice-cold beverages, three extra Taste tickets, tee short, private bathrooms and other perks.
Image
Grace Church is on Wisconsin Avenue between M and K Streets.