Heavens to Etsy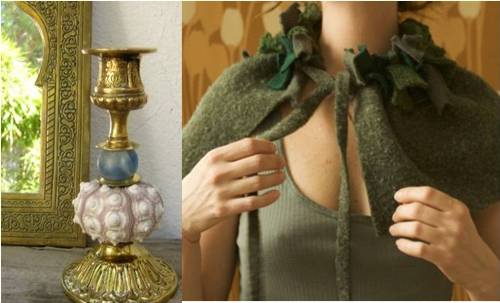 I'm not lacking for addictions – chocolate, shopping, horror movies, etc. But why not add another hang-up to my repertoire. Etsy has been a Huntley & Co. resource for a few years now, but lately I've become a little more obsessed. This online bazaar is like eBay in that it's an emporium for clothing, furniture and knick knacks. The difference is that Etsy contributors are legitimate artists, craftsmen and shopkeepers – not some creepy dude in New Jersey trying to sell his collection of vintage Liberace records. So if you're in the market for something hip, funky, unique or exquisite, Etsy will have what you're looking for … and probably a few things you weren't, but now can't live without. Heaven! Drawing on Panel "SarahGiannobile"
If you want to start collecting art, Etsy should be your first stop. Young, fresh talent in every medium imaginable. Vampire Glass "Whitewash Sundries"
Sipping cocktails from this glass would definitely incite mischief. Twiggy Leather Boots "mykashoes"
Fall is coming - time for some new chic but comfy boots for running around town. Love Coat "ElfedUp"
… And some new sweaters. Laid back luxury at its best. Vintage Ted Lapidus Sunglasses "Vintage50sEyewear"
Glasses are a tricky thing to purchase online. But this glamorous pair may be worth the risk! Vintage Malachite Brooch "BayTreeGifts"
I'm going to buy this stunning brooch. I love malachite especially against a backdrop of gold. Handmade Walnut Table "blackelm"
There are a bevy of talented furniture makers on Etsy. This one specializes in hand-crafted solid wood furniture and is based in my hometown of Minneapolis. Bubble Chandelier "jeanpelle"
Simple, clever and a steal compared to similar bubble-style pendant fixtures popular on the market right now. Midcentury Espresso Set "Abundancy"
I love warm metals - gold, brass, etc. So how fabulous would this coffee set look in my kitchen? Hanging Tillandsia Terrariums "VivaFlora"
Terrariums are so cool. Hang them from the ceiling, add a spindly plant and suddenly you have a living sculpture in your home.
These earrings are gorgeous!!! Vintage Lucite cabochons in a gold tone brass frame. Vintage Red Faux Fur Hat "june22"
I wish Americans still wore hats on a regular basis. ... and traveled with a sense of panache.
Vintage Crimson Skyway Luggage "cheekyvintagecloset" Large Leather Bin "Gildem"
For those of us who love to organize with style. What a great tote for newspapers or kindling. Custom Pet Portrait "Mandawife"
I want to have my beloved Nina immortalized in a painting. But I would like it to be slightly unconventional and I don't want to spend a fortune. Amanda Wolfe creates 8x10 gouaches based on a photo you supply for only $100. Five Color Letterpress Card "breadandbuttershop"
I love a good card. This one is graphic, witty and sentimental. The perfect send-off for that special someone. Signing off and checking out [my Etsy shopping cart].Tricia xo