Healthy Peach Cheesecake Parfait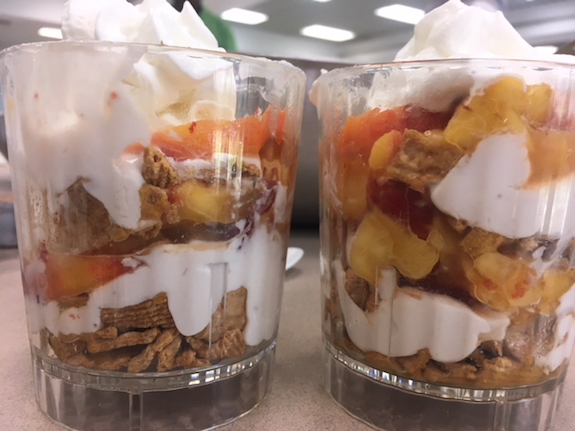 I knew Quaker Valley Orchard's peach deal was great - a huge bushel for $30 - but I had no idea that the peaches I bought two weeks ago would still taste as if they were picked this morning. I gave away as many peaches as I could to friends and neighbors when I got home from the market, but there were still some left. To save as many as possible, as soon as I brought them home from the market, I put them gently into my refrigerator, and in a glass bowl, to protect them from bruising.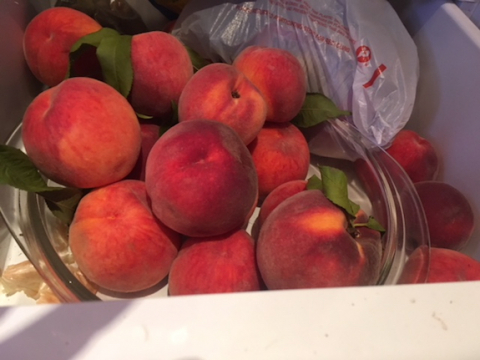 I cautiously tried one this weekend for a recipe I was hoping to make, and I was completely surprised at how perfect, sweet, and juicy they still were.
I highly recommend popping by the Rose Park Farmers Market on Wednesday to get what may be some of the last of this season's peaches.
Healthy Peach Cheesecake Parfait
This is an outrageously delicious dessert, especially because the main ingredient is sweet, tender, locally grown peaches (It was delicious with strawberries, too).
My Salvation Army Addiction Recovery class made this recipe this weekend, and it was a huge hit. My "Nutrition, Health & Wellness" classes include recipes and tastings to teach how preparing and eating more fruits and vegetables can be deliciously fun. The recipes we make must be healthy, simple, inexpensive, quick, and with no cooking necessary.
For 10 Servings or More
Ingredients:
Use 3 medium bowls, one for each layer:
1 bowl: Crush in Large Chunks: 9 Graham Crackers or 1-1/2 Cups Granola or Vanilla Wafers Add Chopped Nuts, if desired
In 1 bowl, toss: 3 Cups sliced peaches 1 Tablespoon Granulated Sugar
In 1 bowl, Blend, then refrigerate until set, if desired: 8 Ounces Low Fat Cream Cheese 1 Cup Nonfat Greek Yogurt 2 Tablespoons Heavy Cream 1/2 Cup Powdered Sugar 1 teaspoon Vanilla Extract
Garnish with extra sliced peaches, granola, and/or chopped nuts on top Optional: Place a Sprig of Mint on Top
In a wine glass, martini glass, or clear cup, place a layer of the crushed graham crackers, a layer of the cheesecake mixture, then a layer of the sliced peaches. Repeat.
This recipe is adapted from "Life Made Sweeter." More peach recipes...