Have a Seat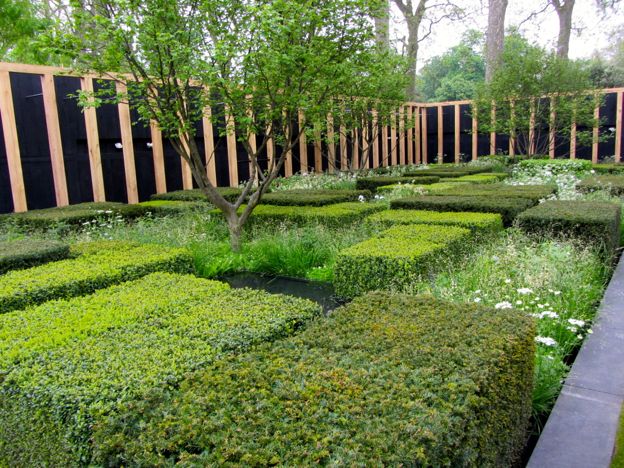 Gnomes were coming out of the woodwork at the Chelsea Flower show last month. So intent was I on the fabulous display gardens that I didn't notice until a pair of gnomes were interviewed by Sarah Lyall of the New York Times right in front of me. That's not something you see every day.
I only had four and a half hours to see everything at Chelsea before the announcement inevitably came asking everyone to leave (very politely) because the Royal Family was about to arrive. You would think four and a half hours would be plenty of time, but it wasn't. I never even made it into the Grand Pavilion.
The most striking garden this year was designed for the Telegraph by the UK's hot designer, Christopher Bradley-Hole. Inspired by plants frequently found in the English landscape, by Japanese gardens, and by modern art, Bradley-Hole brilliantly combined geometrically clipped boxwood and yew hedges with soft grassy flowering perennials and black basins of still water to create a pattern of dark and light greens and reflected light. Rough-hewn vertical timbers delineated the dark L-shaped walkway on the garden's perimeter, providing a strong contrasting vertical pattern. It was gorgeous; very sophisticated. As I gazed at it appreciatively, though, something nagged at me. It struck me that there was no place to sit, not even in the surrounding walkway.
Some gardens are made exclusively for looking at, but it seems to me that a garden without a place to sit is missing a primal element. As Jane Austin's character, Fanny Bryce (Mansfield Park), says, "To sit in the shade on a fine day, and look upon verdure, is the most perfect refreshment."
As a consequence, I became obsessed for the rest of the day not with gnomes, but with garden seating. All gardens, urban, suburban,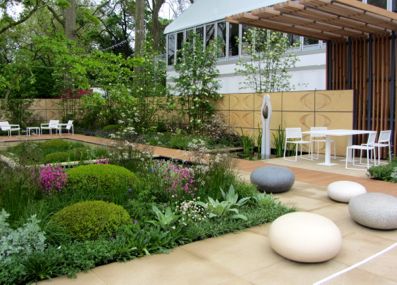 or country, need seating. Where else can a gardener rest and take in his or her work? a lover woo? a reader read? entertainers entertain?
As it was, the Chelsea Flower Show, celebrating its 100th anniversary this year, included numerous diverse and beautiful seating arrangements. Several offered perfect inspirations for Georgetown gardens.
For instance, the elegant garden designed by Robert Myers for the investment firm, Brewin Dolphin, included both informal and formal seating in a very modern garden planted with plants native to the UK. The informal seating was comprised of four giant river stones that an adult might not sit on for long, but children indubitably would be tempted to play on. The stones bridged the gap between the formality of the garden's strong geometric spaces furnished with white chairs and tables, and the softer plantings in the quadrilateral planting beds. Boxwoods sculpted in similar forms and set amongst the plantings repeated the stones' rounded, organic shapes. It was just the right arrangement and tone for entertaining.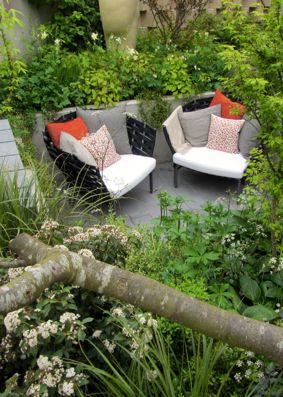 Another garden, done for the City of Stoke-on-Kent, presented sunken areas for dining and seating. Sunken gardens can be difficult to build in small level gardens, drainage and other considerations being what they are, but a wall or hedge can be used to replicate the sense of being nestled into a secret, intimate space. The intimacy of the seating area was irresistible in the Stoke-on-Kent garden. One could easily spend hours here, deep in conversation, distracted by nothing but soft planting, the sky, and one's companion. The pillows would inevitably wind up on the ground, but no matter. Confidences and good gossip could be privately shared here without fear, dare I say, of government surveillance.
A more solitary seating arrangement formed the core of the Massachusetts Garden designed by hand bag designer Susannah Hunter and garden designer Catherine McDonald. It seemed ideal for a good long read, so it wasn't surprising that it was inspired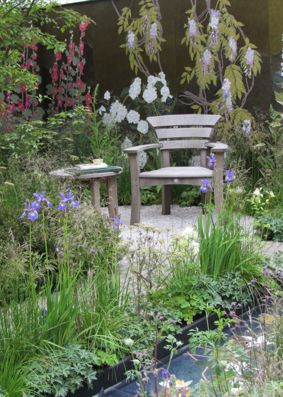 by the poetry of Emily Dickinson. Two features I especially loved in this garden, enhanced by large leather-embossed panels and a pool of water, was that a small table accompanied the chair – so practical but not always though of – and the fact that it was sitting on gravel. Somehow the crunching offootsteps on gravel always lends the verisimilitude of being once removed from reality. Who doesn't love escaping now and then? I can envision this small setting being replicated in one form or another in the smallest Georgetown garden with complete success.
A garden bench in the Centenary garden was similarly inviting, and was clearly where Fanny Bryce would have been at home, sitting in the shade to "look upon verdure". This garden, designed by Roger Platts, was a celebration of 100 years of British gardening trends and elements. Set against a brick wall amongst miraculously overgrown rhododendrons and various perennials (the miracles of English nurseries were in abundance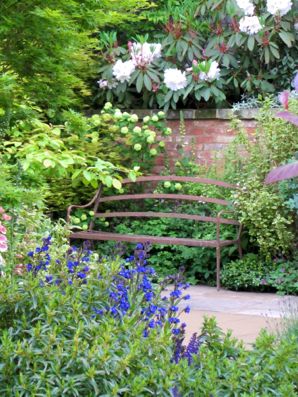 throughout the show), the bench was clearly meant for a brief sojourn. It didn't look comfortable enough for an afternoon's read but it was certainly adequate for a good chat with a friend or fifteen minutes rest and contemplation. And so easy on the eyes! Just looking at it conveyed solace and peace. I could see this in a long narrow garden where there's just enough room for a walk and a strip of planting.
In the end, I could not resist the whimsical wood and glass capsules offered for sale on the far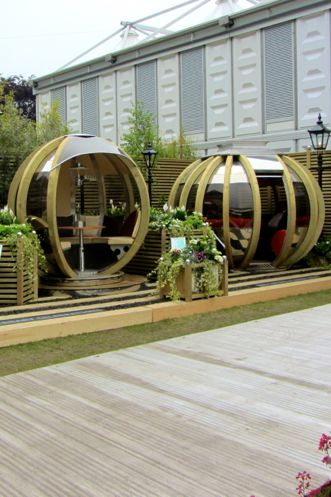 side of the Grand Pavilion. Anyone longing for a quiet place to sit in a garden dominated by urban noise (say, planes flying overhead and sirens sporadically blaring) would be drawn to these "rotating sphere loungers," as they are called by their vendors, Ornate Garden. Used as a small dining or seating nook, these space-age rooms are weather-proof and noise-quelling. I was a bit nervous about sitting in one, however, fearing that they might really be teleporters or time-travel pods. Who knows where you could wind up?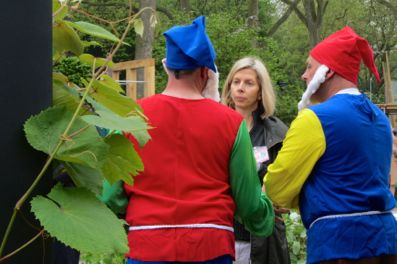 In a garden populated with gnomes, perhaps?