Hardy Middle Strives for Modern Library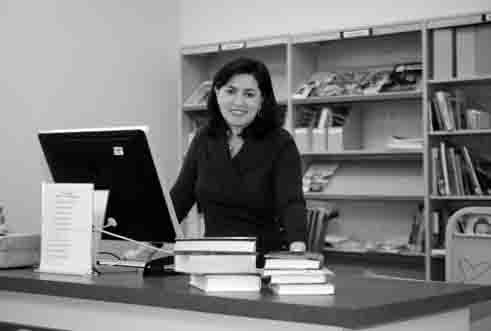 By Kat LuceroCurrent Staff Writer
Donna Eisen loves reading.
The new Hardy Middle School librarian loves the activity so much that in order to reel in students, she expanded the collection to include — and even showcase — graphic novels and entertaining books such as Ian Doescher's "William Shakespeare's Star Wars."
"Fiction is a gateway drug to reading," said Eisen, quoting British author Neil Gaiman from his lecture on the importance of libraries in imagination and the love for learning.
"I feel like the school library should be the heart of the school. Like an oasis. As soon as you enter the doors, you feel excited. ... Something good is going to happen," Eisen said.
Not too long ago, Hardy's library program didn't have the same enthusiasm. Strapped with budget cuts, the school in upper Georgetown didn't have a librarian for three years and the reading collection became stagnant and outdated.
Hardy parents realized an active library is essential to a middle school. So the Parent Teacher Organization prioritized this initiative, starting with funding to hire a part-time librarian for the 2012-2013 school year, said member Brian Cohen, who also chairs the Glover Park advisory neighborhood commission. "It's something the parents wanted to contribute," he said.
When D.C. Public Schools finally cleared funding for a full-time librarian at Hardy, the 379-student school searched for candidates.
Principal Patricia Pride, also a new addition to Hardy, hired Eisen over the summer. "She's very proactive and positive," said Pride. "She's done a great job so far in instilling a culture that reading is fun."
The new librarian's first task was to take inventory of the collection. "We have a history of tennis that's older than both of us [so we decided to] update the collection first," said Pride.
In doing so, Eisen uncovered discrepancies. "I discovered that we had 7,000 in the collection and 30 percent had gone missing — a large portion," she said.
To revamp the stock, Eisen ran several book drives last fall. including a master wish list on Amazon.com and a drop-off donation drive for slightly used (and dated) books, which Eisen said yielded more than 250 books.
Last November she also launched a drive on donorschoose.org to fund the purchase of nonfiction books. "Within 27 hours, it was fully funded," she said. "We received $800, and we were allowed to add 65 books to the collection."
Last month, the Glover Park neighborhood commission approved Eisen's request for a $2,500 grant (Cohen abstained from the vote given his dual responsibilities). When The Current first spoke to her mid-January, the librarian said she "already spent a third of it … on books."
From Feb. 24 to 28, Eisen is joining forces with the Hardy Parent Teacher Organization to run a book fair at the library. The PTO has also helped her host activities like a reading incentive program.
To further engage students, Eisen has decked out her realm — adding a large couch and displaying students' Chinese New Year artwork. For that holiday she also gave students fortune cookies whenever they checked out or returned books.
The North Carolina native recently lived in Malaysia, working as a librarian at the International School of Kuala Lumpur. Eisen has also lived in Georgia, Turkey, Granada and the Dominican Republic, but decided the Washington area was a good place to settle.
"I loved living overseas, but our work contracts ended," Eisen said. She and her husband have three children, "born in different places," but the couple first met in D.C. in the 1990s. "We thought we'd go back," she said.
At Hardy, the librarian's near-future plans include developing the electronic-book collection and perhaps adding more computers. "The e-books are going to be integrated in the library system so it'd be helpful to have more computers in the library, as well as e-readers" such as Kindle and Nook devices, she said.
For more information on the book drive, visit hardyms.org.
This article appears in the Feb. 12 issue of The Georgetown Current newspaper.