The happy inner child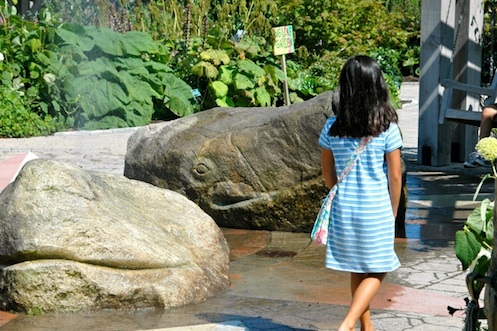 Between quake and hurricane, and during Ben Bernanke's Jackson Hole speech, I escaped. Mind you, I am still perched on a granite cliff at the mouth of Muscongus Bay and it was the sort of glorious clear blue-sky-and-evergreen day you get north of the 43rd parallel, so it wasn't as though re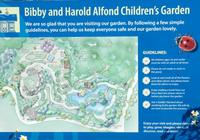 ality was really bearing down. It was just a perfect morning to visit the much-acclaimed Coastal Maine Botanical Garden http://www.mainegardens.org/home/ in Boothbay.
Board member Tom Renyi had told me that the two-acre "Bibby and Harold Alfond Children's Garden" is wonderful so that's where I headed. My inner child couldn't resist. Lucky for me that was all I had decided to see. The carefully maintained Botanical Garden, all 248 acres of it, is the largest in New England, and it will take hours, days, and seasons to really get to know it.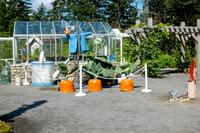 The drive into the Botanical Garden is gorgeous, with the smell of the sea lingering in the air and tall spruce stands towering above well laid-out and not too formally landscaped spaces. I was immediately pleased to see that it isn't "all tarted" up with fancy roads, buildings, and walkways. Instead, it is nestled elegantly and naturally into its site, with a strong Maine identity, almost as though it had always been there.
The entrance to the Children's Garden immediately draws you into the world of childish fantasy and magic for there, in a circular space bordered with rustic wooden swings and multi-colored shrub and flower beds, are several whales, intermittently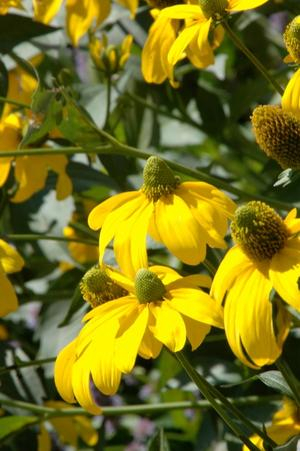 spouting sun-sparkling spray. The whales, perfectly placed boulders subtly carved and equipped with spouts, are a child-sized reminder of the garden's connection with the sea, and are the creation of Damariscotta sculptor Carol Hanson. I was hooked. I immediately regretted my adult height and took advantage of my role as photographer to sit and watch the whales spout from a childish elevation. I'm not proud.
Leaving the whales reluctantly, I proceeded into the garden along the path to the bog. The flowers lining this walk are rampant with a joyous spectrum of flowers, some low to the ground for the really small to see easily, and others tall enough to dwarf the just-under-4-foot crowd. Flittering butterflies and bees added to the magic. I especially loved the many types of annual salvia that were tucked among the perennials, knowing that hummingbirds visit them frequently. You have to be patient with annual salvias – they are usually not available in the nursery until late spring and it takes some real warmth to get them growing. It's always worth saving them a spot, though, because they are easy to grow in pots or in the garden, and will bloom until fall in full sun. I especially loveSalvia farinacea 'Victoria Blue' for it's unique cornflower hue, and believe that scarlet salvias are the best for attracting humming birds.
Speaking of scarlet, red Cardinal flower (Lobelia cardinalis), was planted abundantly in the Children's Garden. You couldn't miss its tubular flowers, a standout crimson color, attractive to hummingbirds and the human eye. This short-lived perennial will self-sow and is native to moist slightly shady and sunny areas in eastern North America. It is a stunning addition to the garden in need of knockout late summer color.
The path's exuberant stand of two Rudbekia species, both North American natives, was also dazzling. The first was the well-known Black Eyed Susan (Rudbekia hirta), the state flower of Maryland and a robust bloomer in well-drained soil and full sun, though I find it can take some shade. The other was Rudbekia lanciniata variety ampla, purportedly named by Linneaus himself in 1753. These stood nearly five feet tall, their centers a yellow contrast to R. hirta's dark purplish brown cone, and were alive with butterflies. I could easily see this growing in a small sunny urban cottage-style garden if it was frequently pinched to keep it under control.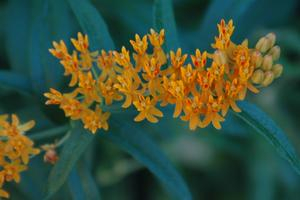 Another North American native, Butterfly Weed, Asclepia tuberosa, grew nearby adding to the riot of color. This sweet plant, with clusters of tiny orange flowers, grows to between 24-36 inches tall, and I have seen it blooming well in Georgetown most of this summer in a location with a bit of shade. I have always heard that Butterfly Weed, which develops a thick taproot, resents being moved so find a location for it and leave it alone. The great thing about this perennial is that it adds a dash of restrained orange exuberance that combines especially well with blues, lavenders, whites, and yellows.
When I neared the end of this cheery walk, I looked up and simply stopped in my tracks for there, across a small bog and pond, stood a small bear on a miniature island of blueberry bushes. It was Sal's bear cub, of course, from Robert McCloskey's "Blueberries for Sal", a story I remember being read in kindergarten. A strong Maine –based literary theme runs through the Children's Garden, (E. B. White and Barbara Cooney are also represented), and there is even a small cottage-like library full of books and chairs where people, young and old, can sit and read. I was sorely tempted.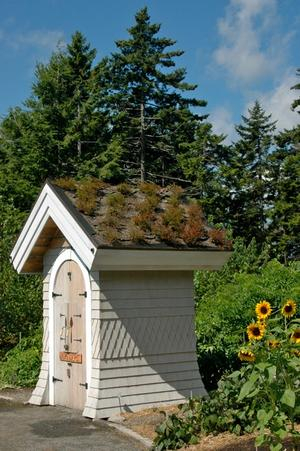 Beside this building, and in view of the cub, was another cottage that caught my eye. In addition to its charm, the roof was planted with grasses. The roof of a nearby shed was planted with low bush blueberries. These two buildings made me wonder if I could turn the flat roof over my living room, with it's boring water proof membrane, into a green roof to help insulate the house, to provide additional fodder for butterflies and bees, and to sit in above the fray of Georgetown. "Living roofs" have always intrigued me, including the famous one at Chicago's City Hall, especially since they can real garden space and planted areas in dense urban areas.
Further down the path is the veg garden and it's a jewel. The vertical gourd stand was especially imaginative and would be easy to replicate in an urban garden. This one was a simple wood structure with whimsically painted faux gourds hanging brightly beside the real deal. The vegetable garden, complete with scarecrows, compost pile, and a small working greenhouse all perfectly scaled to children.
As it was time for me to leave, I decided that the creators of the garden, including designer Herb Schaal and Executive Director Maureen Heffernan, have really created an ideal children's garden. My inner child was delighted, and judging from the visitors I saw, ranging in age from three to over 80, mine wasn't the only one. In her letter of invitation to the opening of the Children's Garden last year, Ms. Heffernan quotes Miss Rumphias, Maine author Barbara Cooney's unforgettable character: "You must do something to make the world more beautiful." This garden makes the world more beautiful and will inspire generations to do the same.