Happy Birthday Maestro!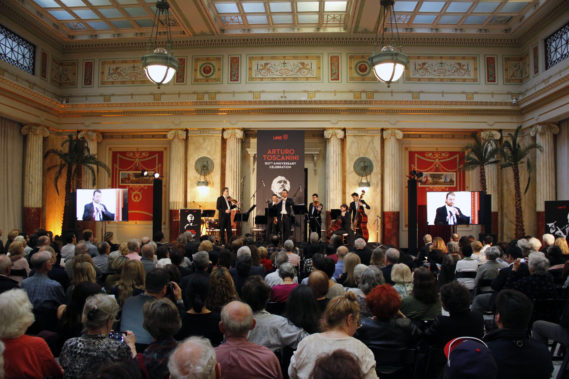 We're not sure if Amtrak regular Vice President Joe Biden was caught up in the birthday bash of legendary conductor Arturo Toscanini (1867- 1957) held at Union Station in Washington, DC – but hundreds of others were. The celebrated chamber orchestra Cameristi della Scala (Milan) held the free concert which was sponsored by Lane Construction.
Pietro Salini, Chairman of Lane Industries Inc. – a leading U.S. construction company specializing in the transportation, infrastructure and energy industries – produced the extraordinary event.
Cameristi della Scala was founded in 1982 and is formed by musicians from the legendary orchestra of Teatro alla Scala in Milan (Italy), one of the most important opera houses in the world. It is acclaimed worldwide for its sensitive interpretations of the chamber orchestra repertory.