Happy 150th Birthday Grace Church Georgetown!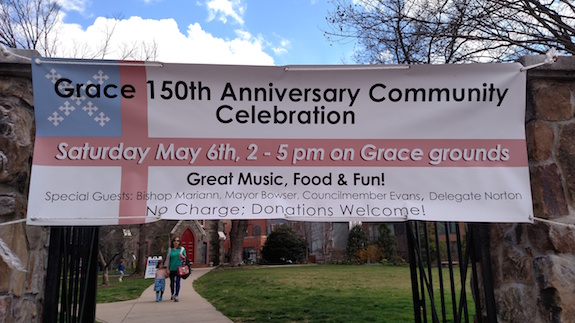 On Saturday, May 6, 2017 Grace Episcopal Church in Georgetown will sponsor a community celebration in honor of the church's 150th anniversary. Festivities will open at 1:30 pm with a procession beginning at St. John's Church, Georgetown at 3240 O St. NW. The procession will continue to Christ Church, Georgetown at 3116 O St NW, and then turn west on M Street and south on Wisconsin Avenue. The procession will recognize and honor the aid and support of Grace Church's two "mother churches" in the founding of Grace Parish.
The afternoon celebration on the church lawn will begin when the procession arrives, at about 2 p.m., and will include music, food, and family-friendly fun. Music will be provided by Andrew Barnett (www.theodicyjazz.com), Marshall Keys (www.marshallkeys.com), and Friends. Plans also include a sing-along for all, led by the Grace Church Choir. Interpreters will present the rich history of Grace Parish throughout the celebration, at thematic stations on the lawn.
The Grand Finale of the celebration will occur on the front Steps of Grace Church, weather permitting. Several distinguished guests are scheduled to attend and will be featured at this point in the festivities. Bishop Mariann Edgar Budde of the Episcopal Diocese of Washington will speak. The program also includes remarks by the Honorable Eleanor Holmes Norton, DC Congressional delegate; the Honorable Muriel Bowser, Mayor of the District of Columbia; and DC Councilmember Jack Evans of Ward 2.
The festivities which take place after the procession will be held at Grace Episcopal Church, 1041 Wisconsin Avenue NW, in the Georgetown neighborhood of Washington, DC (Below M Street, near the C&O Canal). Limited parking is available ($11/space) on South Street behind Grace Church. Parking is also available at several nearby commercial garages. The Circulator Buses run from the DuPont Circle and Union Station Metro Stations to Georgetown. Exit the bus at Wisconsin and M Streets. There is a Metrobus stop at Wisconsin Avenue and M Street; see www.wmata.com for details. For additional information contact John F. Boynton, Coordinator, Grace at 150, phone 301.213.3947, email jfboynton1@gmail.com, or Rev. John Graham, rector@gracedc.orgor 202.333.7100.