Hank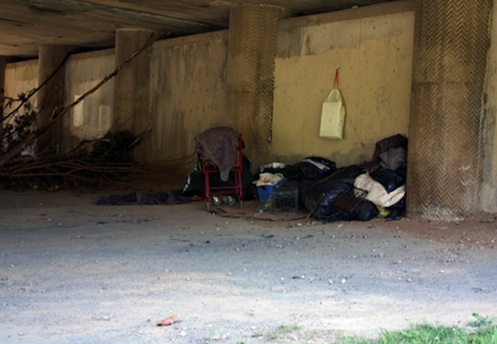 With the AC blasting in my car this morning, I venture out to Starbucks on Wisconsin Avenue for my usual venti latte. On the way, I call a friend, complaining of the stifling heat as I drive through the leafy streets of Georgetown. "I'm so glad I'm not a man in a suit," I say, pulling into the parking lot and stepping out in a sleeveless coral linen dress. That's when I spot Hank, a homeless man who sometimes hangs out on the brick wall next to the sidewalk. I often give him a dollar. He responds with a "God bless you. Have a great day." I usually don't engage in conversation other than, "Good morning. Have a nice day." I'm just happy to be blessed by someone instead of cursed! But on this day, when the temperature in my car hovers at 100 degrees, I feel compelled to say something. Hank is wearing long dark pants, a plaid flannel shirt, a beige windbreaker, and hat.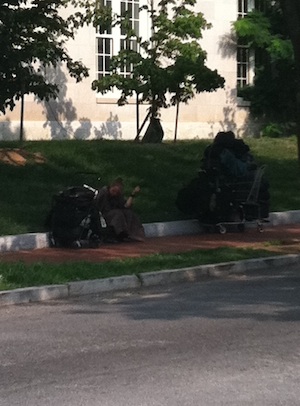 "Hey, I'm a little worried about you. You really should get out of the sun. This heat is dangerous and you have so many layers on," I say. "Oh, no. I'm just fine. I've got plenty of clothes on," he says. "I know. That's the problem. It's way too hot to be wearing all that--especially that flannel shirt." "I appreciate you saying something, but the flannel keeps me cool. It's like insulation." I repeat my spiel about that being the problem. And then I ask if he has a place to go. He leans in closer to me, as if telling a secret, "You know, I have mental problems." I really don't know how to respond. It is pretty evident, but what do you say? So I ask if he has enough water. "I'm just fine right here, but thank you for your concern," he says, gesturing to a sweating bottle of Smart Water that another customer had given him. "That's good. Make sure you drink plenty and stay in the shade." Then I tell him about the newly renovated Georgetown Ministry Center on Wisconsin Avenue near Water Street. Finally, I have some useful information to share. The center, which aids the homeless in this area, re-opened last week. It is fully air-conditioned and open daily.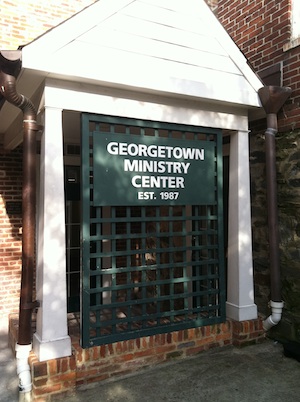 According to GMC's Director, Gunther Stern, there are about 60 homeless men and women living in Georgetown. "Of them, I would venture most, if not all, are mentally ill," Stern says. "We contact them either at our center or on our walks around the community." During this hot spell, Stern and other volunteers at GMC have been out providing bottled water and sandwiches to those who need it. But he encourages the homeless to visit the center. "People who stop in can take a shower, wash their clothes, enjoy a fresh cup of coffee and sit." When I tell Hank about the center, he seems intrigued. "Is that the place near the church? I haven't been there in a long while." "Yep, it's just down at the bottom of Wisconsin. Gunther Stern runs it," I say, pointing in the direction of the river. "Gunther's still there? I'll have to go down there and check it out." Maybe it's wishful thinking, but I finally feel we've made a connection. At least, I hope we have.