Halcyon House Wins Nonprofit Nod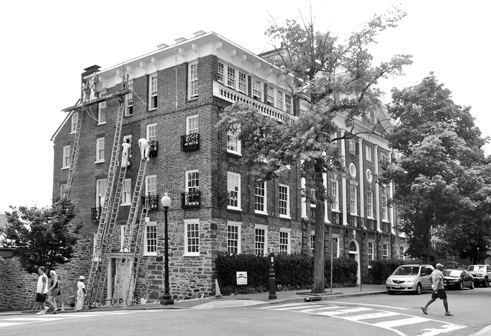 By Elizabeth WienerCurrent Staff Writer
Plans to turn Georgetown's iconic Halcyon House into a nonprofit won swift approval from the Board of Zoning Adjustment Tuesday.
The S&R Foundation hopes to use the historic property at 3400-3410 Prospect St. as the headquarters for its international work. The scale of its planned events there had generated community concern, but the controversy dissolved after foundation representatives worked out a compromise with neighbors.
The revised plans, negotiated over the final weeks of summer, limit the number, hours and size of events. They also address concerns about traffic and parking. One innovative idea is to install a turntable in the house's driveway so trucks can enter and then turn around on the property rather than backing out onto busy 34th Street.
The Georgetown advisory neighborhood commission had unanimously added its support last week after opposing the previous plans in July.
"I'm optimistic," said commission chair Ron Lewis. "Over the past few weeks we've arrived at a significantly reduced schedule, and gotten a better handle on transportation."
Halcyon House is the second major Georgetown property purchased by S&R, a foundation founded by pharmaceutical company owners Ryuji Ueno and Sachiko Kuno in order to plow some of their fortune into philanthropic endeavors. Their use of the Evermay Estate, largely for musical and other cultural events, has won wide support from neighbors.
But initial plans for Halcyon, spelled out in a mid-May zoning application, caused some concern. The Federal-style house, built in 1787 with several later additions, would become headquarters for the International Institute of Global Resilience, a think tank dedicated to improving response to and management of natural disasters. The institute was founded in response to the 2011 earthquake and tsunami that devastated the couple's native Japan.
The sprawling mansion would also house a program called Illuminate, an "incubator" of sorts for young entrepreneurs. For both programs, it will host a variety of seminars, meetings, lectures and retreats, as well as fundraising events to support the mission. The May application envisioned a broad array of events throughout the year, with most limited to 10 or 20 attendees, but a few attracting more than 50 people.
That, and the attendant traffic concerns, upset immediate neighbors as well as the Georgetown advisory neighborhood commission, which voted in July to withhold support because of what Lewis termed the "intensity of use" — especially on a narrow and congested residential street. But then neighbors and some of the commissioners sat down with S&R's attorney, Alice Haase, to work out a compromise.
Changes spelled out at the neighborhood commission's Sept. 3 meeting include: a "significant reduction" in the number of events planned — a maximum of 75 a year for all programs, with no outside groups allowed to lease the premises. "And only a tiny fraction are social events," Lewis added.
With most attendees and fellows coming from outside the Washington area, and shuttle service for major events, few participants will arrive by private car. "We worked very hard to eliminate events that bring cars and parking," said Haase. She said Georgetown University and Georgetown Visitation Preparatory School have discussed providing off-site parking when necessary.
And for the 20 or so larger events that might attract more than 50 people, the revised agreement spells out a multilayered traffic-management scheme that includes complimentary valet parking, shuttle vans and directives to attendees to use off-site parking.
Events for more than 200 people will be scheduled only during the summer or at times when nearby Georgetown University is on holiday or recess.
"The final plan will be a tremendous improvement over what's happening now," said one resident who said she lives diagonally across the street from Halcyon House.
"I think you guys will be great neighbors," added commissioner Bill Starrels.
S&R Foundation purchased Evermay in July 2011 for $22 million, and the Halcyon House a few months later for $11 million. Both houses, impractical for modern single-family use, had played host to numerous special events, weddings and fundraisers over the years — many without formal approval from District zoning authorities. S&R has pledged it won't rent out either property for weddings.
The zoning board voted to issue a "summary order" of approval. That means, Haase said, that the foundation can use the building as soon as it gets a certificate of occupancy. But it won't host any events — per the revised agreement — until the driveway turntable is designed and installed, a process that she said could take several more months.
This article appears in the Sept. 11 issue of The Georgetown Current newspaper.