Halcyon Helps Entrepreneurs Off the Ground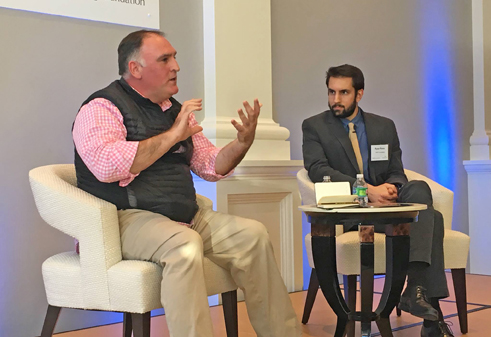 By Mark LiebermanCurrent Staff Writer
One D.C.-based startup company wants to build a charger device that will keep electric cars running for days. Another wants to spur everyday consumers to hold their favorite brands accountable for social injustices. Still another wants to provide weatherproof tents to underprivileged families around the world.
These fledgling businesses have several things in common: They want to change the world, and they're getting a boost from the Halcyon Incubator. Nestled between residential town homes on Prospect Street NW in Georgetown, the startup community inducts a new class of fellows twice a year, providing them with tools and resources to hone their ideas, expand their horizons and formulate short- and long-term growth plans.
At a kickoff event in the incubator's auditorium on Thursday, eight new fellows presented their ideas to a crowd of fellow young entrepreneurs and investors hungry for new ventures to support. The event also included a conversation with — the local restaurateur behind popular eateries like Beefsteak, Jaleo and Minibar — who urged the audience to be active in matters of social justice and praised the fellows for their passion and vision.
Applications for the incubator's fifth cohort went live the same day as the event — "not a coincidence," the incubator's program manager Ryan Ross said. The S&R Foundation, which opened the Halcyon Incubator fellowship program in fall 2014, whittled down the last applicant pool from 200 to the eight who presented onstage Thursday, according to S&R CEO Kate Goodall. "We stopped just short of a blood sample for this group," Goodall joked during the event.
The fellowship unfolds in three phases: five months of residency; seven months of post-residency, during which work continues at the incubator's offices; and six months of an incentivized phase in which fellows can access the workspace and remain connected to the incubator if they need additional time to flesh out their ideas. The fourth cohort moved in for the residency portion last week, shortly before presenting at the kickoff.
Perks of a Halcyon Incubator fellowship include five months of free housing at the organization's historic house at 3400 Prospect St. NW; a $10,000 stipend during the residency phase; six or more months of free workspace, followed by reduced-rent workspace for the rest of the time; mentorship and coaching from incubator staff and outside guests; and access to investors at events like the spring kickoff.
Applicants are judged on criteria including sustainability, innovation, impact, talent and execution. Any original, independent startup in operation for less than two years is eligible to apply.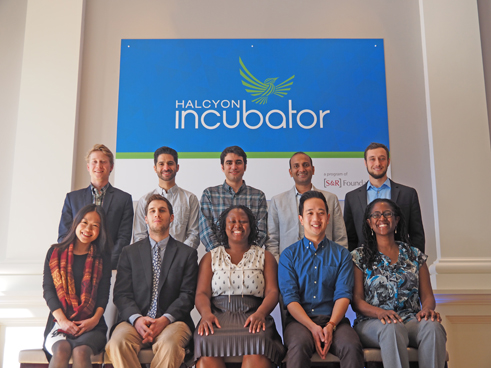 The eight fellows' presentations, delivered in short speeches of five minutes or less, mixed humor and pathos in an attempt to win over the investors in the room. Sean Pressler of the Armed Services Arts Partnership discussed his company, which connects veterans and members of the military to opportunities to explore their creative passions, then thanked the crowd for indulging his "Donald Trump moment" of activism for veterans' rights. Eric Shih asked the audience to envision his startup Spendrise by imagining "if Kickstarter and Change.org had a baby."
One of the eight companies already has a connection to the event's keynote speaker. The rooftop garden outfit Up Top Acres — run by three alumni of Wilson High School — provides vegetables grown at its growing number of rooftop facilities to Andrés' Think Food Group. Owner Jeffrey Prost-Greene called the program "roof-to-table agriculture" during his speech.
For his part, Andrés told the crowd he was happy to partner with Up Top Acres when the company approached him, and he said the afternoon's polished presentations made him realize how behind he was when he was in his 20s. "I learned more in the last half an hour than I did in the last six months," Andrés said.
Andrés said in an interview after the event that he heard about the incubator's event through his business partner Rob Wilder, who has worked with the S&R Foundation extensively, and through the Up Top crew. He said all of the ideas intrigued him, none more so than the electric car charger.
Audience members like Silver Spring resident David O'Leary of Investors' Circle also found much to enjoy during the kickoff. As an angel investor, O'Leary typically interacts with for-profit companies. He said he'll keep his eye on Up Top Acres, though he's seen companies with similar goals struggle to turn a profit or fail altogether.
O'Leary plans to contribute to or at least further pursue each for-profit organization that presented.
"I could really see all of them at least making it to the next round of due diligence," he said. "The fact that they're here at this incubator is a good sign."
Applications for the fifth cohort, with residency starting in September, are due by May 3 at 5 p.m. The application can be found at tinyurl.com/HalcyonIncubator.
This article appears in the Feb. 24 issue of The Georgetown Current newspaper.