Gypsy Sally's Seeks Capacity Increase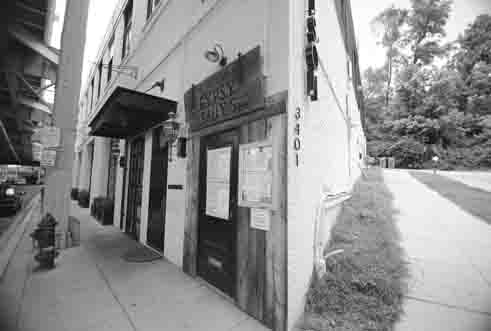 By Katie PearceCurrent Staff Writer
Gypsy Sally's, the Americana and blues venue down by the Georgetown waterfront, is hoping to invite in more music fans.The club at 3401 K St., which is currently allowed to host 284 patrons under its liquor license, is seeking to increase its capacity to 452.
Owner Karen Ensor said the change wouldn't affect the nature or operations of Gypsy Sally's, which opened about a year ago next to the Whitehurst Freeway. The venue "will continue to always have Americana bands," she said, and will also retain its business plan as a "concert/dining venue."
Ensor said the request is meant to bring Gypsy Sally's in line with the larger capacity that's already permitted through its certificate of occupancy.
The change would allow the club to take advantage of its "generous space," she said, and also to keep up with the growing fan bases of certain popular acts. She named The Hackensaw Boys and Love Canon as two bands that sold out shows in the last year.
But the update requires a "substantial change" through the D.C. Alcoholic Beverage Control Board, which will hold a hearing on Gypsy Sally's application on Aug. 4.
Two Georgetown groups — the advisory neighborhood commission and the Citizens Association of Georgetown — have filed protests against the application, citing peace, order and quiet concerns.
Georgetown neighborhood commissioner Bill Starrels said the parties are working together now "to see if there's a way to meet [Gypsy Sally's] halfway."
According to Ensor, the groups have expressed a desire for a lower capacity than 452, and she's told them she's "certainly willing to negotiate."
Starrels said the parties are also working to resolve other issues, including noise levels and "dispersement of crowds." Recently some neighbors have raised concerns about noise from Gypsy Sally's as well as Malmaison, the restaurant below it, he said.
"We'd love to see them survive in the neighborhood," Starrels said of Gypsy Sally's. "We want them to coexist with the neighbors."
Ensor, who started the venue with her husband David, acknowledged one particular evening "that resulted in some noise issues." The owners responded by "never inviting that band back again" and clearly communicating with other bands about noise limits, she said.
Ensor said Gypsy Sally's has also invested, "at much expense," in soundproofing measures. In addition, she noted there can be confusion about where exactly the noise originates. "We're not the only person generating noise in the neighborhood," she said. "Sometimes there's been some mixup."
The request to increase capacity stems from a change in the venue's liquor license.
When Gypsy Sally's first opened, the Ensors arranged for the lower capacity of 284 to ensure they could safely meet the mandates of their restaurant-class license, Ensor said. With the higher allowable capacity of 452, it would have been a struggle to comply with D.C law establishing food sales requirements. "We would have had to sell a million per year" in food — tough with crowds that wanted "appetizers, small plates and pizza," she said.
After Gypsy Sally's won a less restrictive "tavern" license last January, the owners no longer have to worry about keeping food sales on pace with capacity.
"We know our space is so much more generous than that low capacity that [the alcohol agency] has on file," said Ensor. She said the venue has "every intention to keep selling food."
Gypsy Sally's is one of only six establishments in the neighborhood to hold a coveted tavern license. A 1994 law set that limit for the Georgetown Historic District.
Karen Ensor, a former Wall Street lawyer, and her husband, a singer-songwriter, live in Kent with their two daughters. They opened Gypsy Sally's last September in the top floor of a refurbished early-20th-century ice factory.
With the venue, the couple has sought to fill a void in Georgetown, evoking the spirit of past neighborhood spots like Cellar Door, Desperado and the legendary Bayou.
Ensor said the capacity change wouldn't affect the selection and variety of music acts. "Sometimes if you have a nice singer-songwriter show, it's very low attendance," she said.
This article appears in the July 30 issue of The Georgetown Current newspaper.